Qatar to boost investment in Spain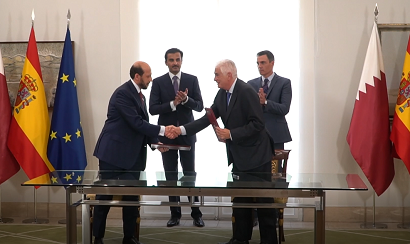 23 May 2022
On his first official visit, the Emir announces the mobilisation of 5 billion euros in the coming years
The first official visit to Spain by the Emir of Qatar, Tamin Bin Hamad Al Thani, has deepened the relationship between the two countries on the 50th anniversary of their diplomatic relations. This relationship, which has developed into a strategic partnership, will strengthen economic and political ties.
Shortly after his arrival in Spain, the Emir announced the mobilisation of some 5 billion euros that his country will invest in Spain in the coming years. The two sides have also signed a total of twelve agreements and memoranda of understanding in the fields of economy, trade, education, military and judicial cooperation, health, science and innovation.

Common challenges
The Spanish president, Pedro Sánchez, spoke of a relationship that was already important, and with ties of friendship and culture that are now receiving an important boost, he explained, "in line with the very similar vision of how to face the current global challenges that we share, such as multilateralism and the commitment to care for the planet, exploring the immense potential of renewable energy and the ecological transition."

One of the most important memoranda signed (pictured) is the collaboration agreement between the sovereign wealth fund Qatar Investment Authority (QIA) and the public body Cofides (Spanish Development Finance Company). Its implementation will enable investment in green and digital economy projects that are part of the government's Recovery, Transformation and Resilience Plan.

Deep and historic relationship
QIA CEO, Mansoor Al-Mahmoud, said, "QIA has a deep and historic relationship with Spain. This Memorandum of Understanding with Cofides will enable both parties to develop a deeper and more diversified partnership and to support the innovative and technology industries that will shape the Spanish economy in the years to come.

For his part, the CEO of Cofides, José Luis Curbelo, explained, "By combining Cofides' expertise in business development and QIA's long-term investment perspective, both institutions will leverage their strengths for the successful deployment of this agreement, which should result in solid investment aligned with Spain's economic strategy.

This new strategic relationship will, according to Pedro Sánchez, strengthen "the connection between the business communities of both countries." This will not only open up opportunities for Qatar's investments in Spain, but also for Spanish companies in the Arab country, especially in the key industries for its upcoming strategy: water, agribusiness and renewable energies.

Photo: Cofides