China Three Gorges acquires 619 megawatts in solar PV projects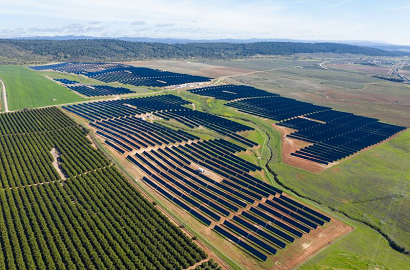 17 June 2022
There are 27 plants, mostly in southern Spain, owned by Nexwell Power and Ibox Energy
The European subsidiary of China Three Gorges (CTG), the largest renewable energy group in the Asian country, has bought a 619 megawatt solar PV portfolio, entirely in Spain, from Nexwell Power and Ibox Energy. It was in fact its Spanish subsidiary, which in turn depends on the European subsidiary, which was the main player in the operation.
The portfolio consists of 27 solar plants, mainly located in southern Spain. They are actually located in Andalusia, Castile-La Mancha, Valencia and Extremadura and include the one in the image, in Posadas (Cordoba). The plants are at different development stages: operational, under construction and in advanced development.

First acquisition of greenfield assets
According to Nexwell Power, this is CTG Spain's (CTGS) first greenfield asset acquisition. The sellers, Nexwell Power and Ibox Energy, are part of the Nexwell Group investment group, which aims to invest in sustainable decarbonisation initiatives with long-term impact.

Specifically, CTGS has acquired two operational solar PV assets from Nexwell Power with an installed capacity of 153 megawatts, as well as an asset under construction that will reach 52 megawatts. The agreement with Ibox Energy includes three assets in advanced stages of development totalling 414 megawatts, and which are expected to become operational over the next few years. Half of the assets under development are expected to be completed by the new owner.

One of the most attractive solar markets
CTG Europe CEO Ignacio Herrero told Nexwell Power, "We regard Spain as one of the most attractive and well-regulated solar markets in Europe and believe that Nexwell and Ibox's projects are among the highest quality assets in the market. Today's 619 megawatt acquisition will be transformational for CTGS, bringing our total solar energy presence in Spain to just over one gigawatt for the next few years, a strong complement to CTG's global wind and hydro portfolio.

For Nexwell Group, its Chairman, Pablo Pulido, said, "When we launched Nexwell and created Ibox with our partner Cox Energy, we were looking to develop, build and operate a portfolio of high-quality assets on a par with Sonnedix, which we co-founded in 2009. Now, just three years later, we have the great privilege of seeing our first asset rotation to CTG, the largest renewable energy owner in the world. We are still committed to decarbonise the planet and support our local communities through the delivery and construction of these long-term assets, together with our technical, financial and construction partners."

Photo: Nexwell Power