Foodtech industry consolidates in Spain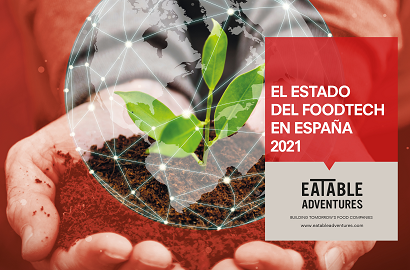 10 January 2022
It attracted €695 million in investments in 2021, 220% more than the previous year
The foodtech industry attracted €695 million in investments in 2021, which is an increase of 220% compared to 2020. This figure leads us to talk about the consolidation of an industry that, for several financial years, was already  producing occasional innovations every so often that managed to surprise the market. This is the interpretation of the report "The State of Foodtech in Spain 2021", prepared by Eatable Adventures, which is a Spanish accelerator in the sector combining agri-food products and innovation.
This is not a swift conclusion. Projects facing rounds of early investment decreased in 2021, giving way to those presented in series A and B, which involve greater maturity from the businesses. In fact, just 40% of them were formed in the three years prior to the survey, which shows a growing survival rate compared to 60% in the previous edition.

Entry of international venture capital
As was the case in 2019, Glovo was, once again, the company getting the highest investment. What is more, it attracted €450 million on its own, which is more than the entire sector received in each of the two previous financial years. This does not detract from the other companies, and does not reduce the expectations that Spanish foodtech is creating domestically and abroad, because investment volumes grew significantly in all investment phases.

In fact, apart from greater awareness from non-specialist Spanish investors, the study detected the entry of international venture capital, whose interest is already similar to other, more developed sectors. Although the main investors continue to be family and friends in the pre-seed and seed stages, a series of initial investments are starting to occur that top €1 million, and Spanish and international professional ventures are starting to come in. Investment rounds are also growing significantly, topping €2 million and doubling the 2020 rounds.

One female entrepreneur for every four men
According to the report, Spain has one of the most prolific foodtech entrepreneurship ecosystems, with 407 start-ups investing in R&D to develop the agri-food product value chain. 30.2% have their own patents and 33.7% have trade secrets. An interesting fact is the presence of women. The founding teams are 20% women, which tops the average for women entrepreneurs in Spain by six points.

The majority of these businesses have teams of between 1 and 10 people, and a significant number, 22%, have between 11 and 25. This translates into a total of 5,000 workers. This is still a small number, but aspiring to grow, judging from the 92% of those surveyed who confirmed they would employ more staff in 2022.

We are also talking about qualified labour, when you consider the use these businesses make of technology. 32.05% use biotechnology in their projects, 28.21% use artificial intelligence and 24.36% use machine learning. They also do it at an advanced level, as 79% already have market-ready solutions and 20% are in the intermediate phase.

Value chain
Just like the previous edition, businesses have classified themselves into four business areas that cover the entire food value chain. 24% of the projects fall within the first, known as agritech, with a significant increase compared to 17% in 2020. This growth is due to the upsurge in technology-based cultivation systems and automated farming solutions.

The second field continues to be dominant, with 35% of businesses in the area of food production and processing. Both here, and in logistics, distribution and retail, which is the third area with 24%, there has been a slight decrease in favour of the others. Restaurant tech, with 17%, is the other growth activity, due to reactivation of the HORECA - hotels and restaurants - sector.

Growth factors
When asked what tools they consider to be most important to drive their growth, start-ups in the foodtech industry put attracting specialist international investors in first place, above incubation, acceleration and scale up programmes, with the development of internationalisation programmes in third place.

This is the second report prepared by Eatable Adventures to analyse the current situation of start-ups in the Spanish foodtech industry. Data extracted from the survey carried out amongst businesses in the industry were compared with other studies and national and international information sources to get an accurate result.

The foodtech industry covers all businesses in the food industry that use technology and innovation in their value chain to improve aspects such as efficiency, safety and sustainability in production.

Photo: Eatable Adventures