Huhtamaki signs two agreements for two solar parks in Spain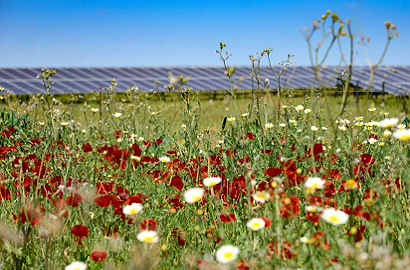 12 January 2022
BayWa r.e. will be responsible for building the facilities, with a combined capacity of 200 GWh per year
Huhtamaki, a provider of sustainable packaging solutions, will promote the construction of two new solar facilities in Spain. This initiative is part of its commitment to using 100% renewable energy and achieving carbon neutral production by 2030. The two new plants are the specific result of two 10-year virtual power purchase agreements (VPPA) that the Finnish company has signed with German renewable energy project developer BayWa r.e.
The search for sustainability is the driving force behind this operation, the largest solar energy purchase in the packaging industry in Europe to date. The Finnish company also sees it as the first significant solar VPPA by a company from that country. The annual capacity of 200 GWh will cover approximately 80% of its current power needs in Europe, with 18 factories in ten countries.

Promoting biodiversity
A VPPA is a contract in which the purchaser agrees to acquire the renewable energy of a project at a previously set price. It does not mean that the energy generated by the project involved will be supplied to its facilities, but it sustainably offsets its needs, in this case similar to that of almost 25,000 homes, avoiding 89,000 tonnes of CO2 gas emissions per year.

With the agreement signed by Huhtamaki another 200 GWh of renewable electricity will be available in Europe each year. This is energy that will be produced in Spain as the two facilities to be built by BayWa r.e. under the agreement will be installed in our country. Both companies also undertake to protect and promote biodiversity during the construction and operation of the two solar parks.

Significant progress
Charles Héaulmé, Chairman and CEO of Huhtamaki, wants his company to be the first choice for sustainable packaging solutions and says, "Renewable electricity plays an important role in fulfilling our ambitions and the agreement we have just signed with BayWa r.e. shows that significant progress can be achieved in a short space of time".

Executive Vice-Chairwoman for Sustainability and Communications, Thomasine Kamerling, has announced two upcoming VPPAs, the first of which is in the United States, and explains, "We are installing solar panels at our facilities whenever it is feasible and are working tirelessly to improve our energy efficiency". She expects to improve energy efficiency with other measures, such as changing to alternative fuels and the electrification of systems.

As for BayWa r.e., CEO Matthias Taft praises the leading role of Huhtamaki in fostering the renewable energy transition in the packaging industry and hopes that the initiative encourages other companies to imitate it. "Supporting Huhtamaki in its journey to achieving its sustainability objectives is another major milestone in BayWa r.e's commitment to progressing in the corporate energy transition, which is so essential for achieving global climate goals".

Photo: Huhtamaki