ICEX celebrates 40th anniversary with eye on future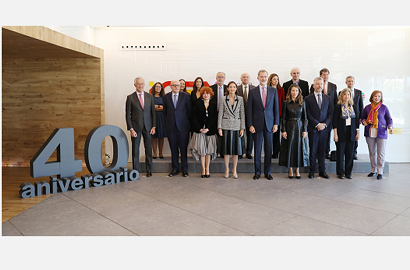 28 November 2022
After four decades of history, Invest in Spain's parent institution is ready for the coming years with fresh ideas for projects
ICEX Spain Trade and Investment, the body which includes Invest in Spain, celebrated the 40th anniversary of its foundation at a conference entitled "Pensando el futuro" ["Thinking about the future"]. The event was brought to a close by His Majesty the King, in the presence of the Minister for Industry, Trade and Tourism, Reyes Maroto.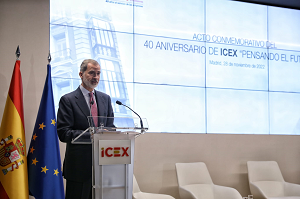 At the closing of the event, King Felipe VI highlighted that "ICEX has played a very important role in the process of opening up Spain, something which has made us the country we are today: open, dynamic and with an eye on the future of our companies." He also stated, "I am sure that ICEX will continue to evolve, grow and fulfil its mission, while maintaining a continuous and necessary capacity to adapt."
The event, which was opened by ICEX President, Xiana Méndez, was divided into two panels. The first panel, "From yesterday to today: milestones and track record", focused on the experience of former heads of the institution. In the second panel, "The ICEX of the next 20 years", several companies shared their experiences of internationalisation.
At the event, ICEX CEO María Peña outlined the institution's roadmap for the coming years.
Attracting foreign investment
ICEX has a clear mission to contribute to the competitiveness of the Spanish economy through internationalisation. Throughout these 40 years, ICEX has varied its range of programmes and services, and has committed itself to new sectors, new types of companies and new tools for internationalisation, including sustainability and digitalisation.
Over the last decade, ICEX has in addition, broadened its terms of reference from initially only supporting internationalisation to now including attracting foreign investment and training in internationalisation.