Multinationals invested around 36 billion euros a year in Spain between 2017 and 2019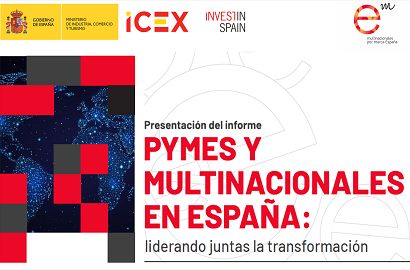 15 November 2022
Presentation of the report "SMEs and multinationals in Spain: leading the transformation together" by ICEX-Invest in Spain and Multinationals for the Spain Brand 
The report "SMEs and multinationals in Spain: leading the transformation together" has been presented by ICEX-Invest in Spain and Multinationals for the Spain Brand at the headquarters of the Ministry of Industry, Trade and Tourism, with the participation of Minister Reyes Maroto. The report aims to identify and quantify the economic links between subsidiaries of multinational companies and SMEs in the Spanish market.
The publication, produced by Afi, contributes to increasing awareness of the commercial relationships between two groups of companies that are vital for Spain: SMEs, due to their important role in creating jobs, and multinationals, which are key to keeping the Spanish economy competitive. The results of this study have been estimated for 2019 in order to omit the possible circumstantial effect that the Covid-19 pandemic may have had on the link between SMEs and multinationals.

Economic links
With regard to the economic links between SMEs and multinationals, the report identifies, on the one hand, that SMEs account for 55% of the supplies needed by subsidiaries for use in their production processes. These transactions, which amount to 74 billion euros in terms of added value, account for 25% of total SME sales in Spain, for which they need to employ 1.4 million workers.
On the other hand, multinationals also contribute decisively to the SMEs' value chain, their purchases allowing subsidiaries to generate 22 billion euros of added value a year, as well as employing over 460,000 people in Spain.
Multinational companies invested an average of around 36 billion euros per year in Spain between 2017 and 2019. It is estimated that around 16 billion euros of this represented added value, with 250,000 jobs being generated by SMEs to facilitate multinationals' foreign direct investment flows in Spain during this period.
Business dynamism
The study also analyses how market interaction between SMEs and multinationals contributes to their mutual development. It thus concludes that in sectors where SMEs sell more to multinationals, the former tend to remain active in the market for longer. In sectors where SMEs buy more from multinationals, their subsidiaries do at the same time tend to grow more in the Spanish market, both in terms of turnover and employees.
Short and medium-term prospects
According to the publication, the strengthening of ties between SMEs and multinationals in Spain will depend to a large extent on their ability to anticipate and adapt to each other's needs in an environment of strong competition. The green and digital transitions are two potential areas which could form the basis of the future relationship between SMEs and multinationals, with SMEs needing to address major changes in their processes and product offerings, while multinationals have the knowledge and experience to contribute in these areas.

Multinational companies' activities in Spain
In 2019, multinational companies had over 10,600 subsidiaries in the Spanish market. The operations of multinational company subsidiaries directly generated an added value of 124 billion euros and employed 1.8 million people.
As part of their activities in Spain, these subsidiaries placed orders with other companies in their value chain that responded to both production and investment needs, and amounting to 162 billion euros. To meet these orders, companies in the value chain had to employ 2.3 million workers.
Spanish subsidiaries of multinational companies, were therefore responsible, both directly and indirectly, for generating 23% of GDP and 24% of total employment in 2019.
You can download the report via the following link.