Real estate investment not slowing down in Spain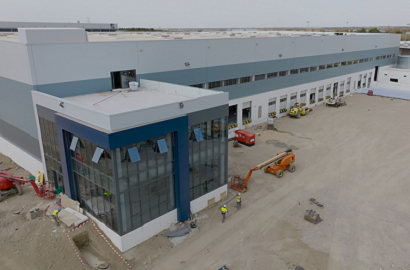 04 October 2022
97% of the capital flowing into the logistics sector comes from abroad
Real estate investment in Spain between January and September this year amounted to 10.8 billion euros. This is what the international real estate consultancy JLL has declared in a report on the sector, in which it has presented the data for the third quarter and the cumulative figures for the year to date. The list is headed by office, logistics and retail segments, which are included in the Commercial Real Estate field, amounting to 7.5 billion euros and 80% higher than the figure for the equivalent period in 2021.
To reach this figure, the consultancy firm estimates that investment in these types of assets amounted to 2 billion euros between July and September. This is 49% higher than the figure for the same period last year, but 45% lower than for the previous quarter.
Mostly foreign investment
Within Commercial Real Estate, the report valued transactions in the logistics segment at 610 million euros in the third quarter. This is 113% higher than during the same period in 2021, and 76% higher than in the second quarter of this year. During the cumulative January-September period, investment was higher than ever at around 2 billion euros, 90% more than a year ago. Investment funds accounted for 70% of these deals, and 97% of the capital came from abroad.
In terms of assets in the retail segment, investment in the third quarter was around 550 million euros, and amounted to 3.69 billion euros for the year as a whole, 427% more than in 2021. The purchase of a Merlin portfolio by BBVA partly explains this figure; if we take this out of the equation, the accumulated volume is 1.7 billion euros, which is still 70% higher than last year's figure.
Commercial assets
Within the retail field, high street assets attracted 820 million euros (2.807 billion euros if the BBVA and Merlin transaction is included). Some 350 million euros have been invested in shopping centres, while investment in supermarkets has reached 322 million euros, and retail parks have seen investments of 208 million euros.
Offices are another major attraction for real estate investors. Between January and September, transactions in Madrid and Barcelona alone amassed investments of 2.04 billion euros, 25% more than a year ago. And the residential segment is not far behind; in the period analysed, sales and purchases in this area accounted for 3.3 billion euros, showing a growth of 28% compared to 2021. Investments in rental housing increased slightly, reaching around 200 million euros, and purchases of old people's homes declined to 300 million euros. It was student residences that drove this segment, rising to a record level during the third quarter: in the year-to-date, investments are already up by 237% compared to the first nine months of 2021 and stand at 1.3 billion euros.
Photo: Mountpark