Iryo warming up to open high-speed routes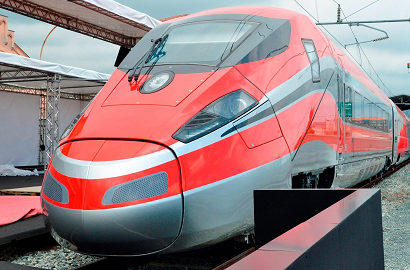 02 March 2022
The operator has already invested one billion euros in Spain and plans to create 2,600 jobs
Private high-speed rail operator Iryo is already warming up for the launch of its first routes in the second half of this year. The trains that will connect Madrid, Barcelona, Valencia, Alicante, Seville, Malaga and Cordoba are already undergoing the mandatory approval tests on different sections of the Adif network, and the first group of 30 train drivers has been undergoing training for over a month to obtain the necessary skills.
In partnership with Trenitalia and Air Nostrum, Iryo has already recruited a second group of 35 drivers and will soon start selecting assistants. The operator will have twenty trains that are, by its own description, the most sustainable, fastest and quietest fleet in Europe. Made from 95% recyclable materials, they will run on 100% renewable energy and are expected to carry 50 million passengers over the next ten years.

Made in Spain and Italy
The trains to be used by Iryo have been manufactured in Spain and Italy by Hitachi Rail and the Alstom Group, and have involved an investment of around 800 million euros. In total, the company has invested one billion euros in Spain, and plans to hire 2,600 workers, both directly and indirectly.
Iryo President Carlos Bertomeu pays close attention to employees, "At Iryo, we pay great attention to the training of all our staff, because we sincerely believe that this is going to be one of the keys to becoming a stand-out company in the Spanish railway sector. The recruitment of this first group of train drivers to drive our Frecciarossa ETR 1000 trains, the fastest and most modern in Europe, is a new milestone in the launch of the first private high-speed rail operator in Spain."

CEO Simone Gorini adds, "At Iryo, we have a strong commitment to the socio-economic development of Spain and job creation is one of the main levers for generating wealth and progress. We expect to create 2,600 direct and indirect jobs, and welcoming our first 30 high-speed train drivers, who are already undergoing training, is an important step for starting our operations in the second half of the year."

First private operator in Seville
Andalusia will be one of the beneficiaries of the new operator's market entry. Following the arrival of Iryo's first test train at Santa Justa station, the first by a private operator in the autonomous community since the line was opened in 1992, the company has stated that the routes to Seville, Malaga and Cordoba will contribute 28.7 million euros to the region's economy in salaries and regional taxes over the next four years.

Iryo will employ 660 people in Andalusia, including ground staff, crew, operations staff and indirect jobs involving work such as maintenance. In addition, the company estimates that  it will bring over 2.5 million passengers to the three Andalusian cities between 2022 and 2025, generating 338 million euros in tourism expenditure. A total of 58 trains a day will link these stations with Madrid.

Víctor Bañares, Managing Director of Ilsa (owner of the Iryo brand) says, "Seeing Iryo in Seville is a new corporate milestone and a sign that the start of our operations is closer. The Seville-Madrid line will be the second one we open, bringing the new high-speed trains to Andalusia and reaffirming our commitment to its socio-economic development."

Photo: Iryo