Mastercard launches Innovation Hub in Spain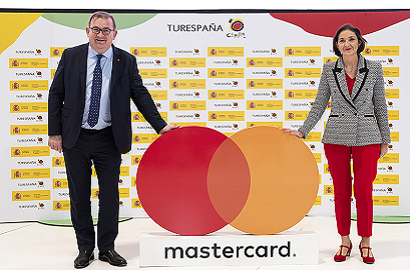 27 January 2022
The hub will start operating in the second half of 2022, with the support of the Spanish government
Financial services company Mastercard has announced the upcoming launch of a Tourism Innovation Hub to be based in Madrid. This centre, which has the support of the Spanish government, will be used to explore solutions to help to drive a global, sustainable and inclusive recovery of the tourism sector.
The Minister of Industry, Trade and Tourism, Reyes Maroto, joined the President of Mastercard Europe, Mark Barnett, at the presentation of this initiative, which took place at the FITUR International Tourism Fair. They explained that work will begin from the second half of 2022 on developing solutions that will bring innovation, research and collaboration to the tourism sector.

Second most visited destination
Barnett alluded to recovery after two years of the pandemic: "The Tourism Innovation Hub will foster programmes and build partnerships which will help the industry recover and drive more inclusive and sustainable tourism growth. Being located in Spain will allow us to leverage the expertise of a country intrinsically linked to tourism and the second most visited destination in the world."

Maroto also looked towards a post-Covid-19 world, and the future of one of Spain's most important industries: "We are going to stop measuring the success of the Spanish tourism model exclusively by the increase in the number of tourists - we must now go beyond this and focus on quality, profitability, innovation and sustainability, as well as social inclusion and territorial cohesion. There is no time to lose in taking up this challenge. And we all need to work together - the institutions and the private sector - strengthening our alliances and bringing other partners on board so that the Spanish tourism sector maintains its international leadership."

Leadership in the tourism sector
Among the projects to be developed in the new hub, special emphasis will be placed on those which harness Spain's leadership in the tourism sector. Data will be used to do this and the opinions of consumers will be sought to understand the trends that should form the basis for decision-making. Success stories will also serve as a platform for creating products and services through public-private partnership. This initiative will also prioritise the design, development and testing of digital solutions that address the needs of both tourists and businesses.

The industry expects consumers to spend a large part of the 4.4 billion euros saved during the pandemic on tourism. In light of this situation, Mastercard wants to build on the experience it already has in Madrid thanks to its collaboration with the World Tourism Organization (UNWTO), which is based in the Spanish capital, and other initiatives such as the data intelligence tools that were tested in 2020 to measure the flow of tourists in Madrid and Barcelona.

UNWTO has therefore welcomed the creation of the new international tourism hub, as expressed by the organisation's Secretary-General, Zurab Pololikashvili: "Tourism's future will be driven by new ideas, new business methods and through joined-up solutions to overcome challenges and fulfil our sector's enormous potential. UNWTO warmly welcomed the creation of a new Tourism Innovation Hub and looks forward to working closely with Mastercard to harness the power of data and creativity to build a more inclusive and sustainable sector."

Photo: Mastercard