Otis opens new factory in San Sebastian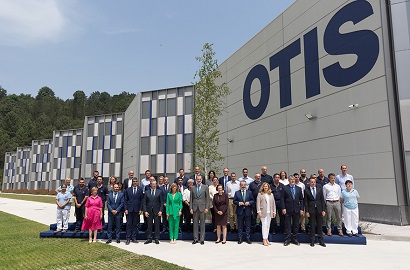 23 June 2022
With an investment of 20 million euros, it replaces the facilities that were opened a century ago
The lift and escalator manufacturer Otis Worldwide Corporation has opened its new factory in San Sebastian (Gipuzkoa). The US company has invested 20 million euros to replace the facilities at the plant that had been operating since the 1920s, nearly a century ago, in the same city.
The multinational's goal was to strengthen quality manufacturing and maintain the skilled workforce it had at its previous facilities, as well as to improve its sustainability. Otis, which specialises in manufacturing, installing and servicing lifts and escalators, produces machines, limiters and safety devices for lifts in the Basque city.

High percentage of exports
The new plant, which was opened in the presence of King Felipe VI and the CEO and President of Otis Worldwide Corporation, Judy Marks, has a surface area of 17,000 square metres. With 80% of its production destined for export, the company claims that it will be recognised worldwide "for its up-to-date approach and the innovation inherent to the Basque Country".

The new plant facilities are more sustainable and modern, and are ready to take on new strategic projects to serve its customers. One example is the improvement in space management and manufacturing processes, which will make it possible to expand the range of machines produced in the factory. One of the innovations for which it will be responsible is the electronic safety system to be integrated into the new Gen360TM digital vertical mobility solution, which is the brand's latest generation of lifts.

Environmental impact
The US company aims to achieve LEED Gold certification for these facilities before the end of the year, and later aims to become LEED Platinum. To achieve this, even the materials chosen for its construction are sustainable, such as steel, precast concrete and aluminium. It has in this way already reduced its environmental impact.

Moreover, like the rest of the company's plants in Spain, it runs on 100% renewable energy and is designed for high energy efficiency. To achieve this, solar panels will be installed to produce up to 25% of the energy it needs to operate.
For Judy Marks, this opening "reinforces our commitment to developing high-precision manufacturing in the Basque Country". She also explained, "Our products, services and impact in Spain are key components of our long-term growth strategy. With this new factory, we will continue to develop and produce innovative, increasingly efficient and connected mobility solutions."

Photo: Otis