Spain launches plan to boost competitiveness and sustainability in agrifood industry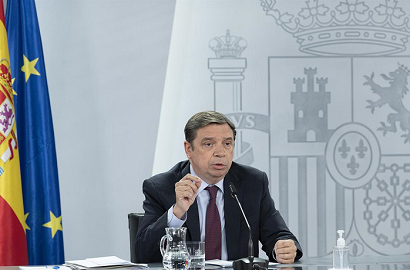 10 February 2022
With one billion euros of funding, the forecast impact is 3 billion euros and the creation of 16,000 jobs
The Spanish Government has approved the strategic plan for economic recovery and transformation (PERTE) for the agrifood industry. This is the fourth PERTE out of the seven it has planned to boost priority sectors of the Spanish economy.
The primary aim of the new strategic plan is to increase competitiveness and sustainability in the industry given the challenges it faces, from climate change to conservation of the environment, land, water, air and biodiversity; The project will also address matters such as food safety and traceability, even though Spain, already has, as Spanish Minister for Agriculture, Fisheries and Food, Luis Planas explains, "the highest safety standards in the world".

Over 1 billion euros
The agrifood PERTE will receive public investment of more than 1 billion euros by 2023. The Government forecasts that this contribution will create an economic impact of 3 billion euros and 16,000 net jobs. It is also expected that it will be a boost to the circular economy and reduce emissions, and that it will act as a centre for attracting people to rural areas.

The PERTE will actually be rolled out in three stages. First, 400 million euros will be allotted to strengthening the food industry, with the aim of improving its production processes and increasing its competitiveness.

Secondly, with an investment of 454.35 million euros, work will be carried out on the digital transformation of all the players in the value chain, from primary production and processing to marketing and distribution.

The third stage will boost research, innovation and technology transfer, with a budget of 148.56 million euros.
The largest injection of public funds
As the minister reminded us, the PERTE's one billion euros are in addition to contributions to other initiatives: the Common Agricultural Policy (CAP), the Recovery, Transformation and Resilience Plan and the European Maritime, Fisheries and Aquaculture Fund. Over the next five years it will receive a total of over 50 billion euros, "the highest ever figure for an injection of public funds into the agrifood industry as a whole", according to Planas.

The actions included in the PERTE will be jointly managed by the ministries for Agriculture, Fisheries and Food and Industry, Trade and Tourism. Plans are also in place to create a support structure where all the authorities, public bodies, autonomous regions and research institutes will be represented, in addition to private operators who show an interest.

The agrifood industry accounts for 10% of Spain's GDP. With exports worth 53 billion euros, it makes Spain the eighth world power in the industry.

Photo: pool Moncloa/Borja Puig de la Bellacasa