Launch of new Rising UP in Spain call aimed at attracting foreign startups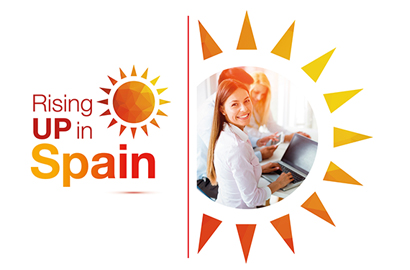 05 April 2022
The deadline for Spanish companies to register as local partners in the programme is 15 May. Registration for foreign startups will be open in May and June 2022 
ICEX-Invest in Spain launches the 6th call of the Rising UP in Spain programme aimed at foreign startups that want to establish themselves and grow from Spain.
Rising UP in Spain aims to support the establishment of foreign startups in Spain and encourage their integration into the Spanish business world. It does in addition  seek to position Spain as one of Europe's leading centres of technology and innovation.
A one-and-a-half-month period has just opened in which interested Spanish companies can register as local partners in the programme; [UdW1] this being one of the main new features of the latest edition. Until 15 May, any company, corporation or technology centre in Spain may apply to participate if it  is open to collaborating with a foreign startup in the development of a specific technology solution linked to its business.
This is an open innovation model, in which the local partner and startup will define the essence of the cooperation to be developed over six months at the Spanish company's headquarters. Thanks to this collaboration, the local partner in Spain will find technology solutions adapted to its business and the foreign company will find it easier to establish and consolidate itself in the country.
A maximum of 50 collaboration agreements between local partners and foreign startups are expected to be achieved in this edition.
The call for foreign startups will open in May 2022. Once selected, they will receive a tailor-made acceleration programme from a specialised team, including advice on access to funding, legal advice and support in administrative procedures for their arrival and establishment in Spain, according to the needs of each company. The selection of startups will take into account their level of innovation, scalability, management team and the viability of the investment in Spain.
Since it was launched in 2016, this programme has been a great success, both for the number of foreign entrepreneurs who have been interested in participating, and for the quality of its projects. More than 1,400 foreign startups from around 90 different countries applied during the first five calls, 70 of which were selected.
Spain: a growing ecosystem
This is an excellent time for the entrepreneurship ecosystem in Spain, which is not going unnoticed by entrepreneurs from around the world. Spain's rapid growth and record investment figures in the last three years have meant that it currently represents an excellent opportunity for entrepreneurs who wish to develop their technology businesses in our country. The opportunity to access a market of more than 500 million people, as well as the technology infrastructure, are some of the competitive advantages which startups that establish themselves in Spain can currently benefit from.
More information at Rising UP in Spain (investinspain.org)