Rising UP in Spain offers foreign startups complete soft-landing programme from Spanish companies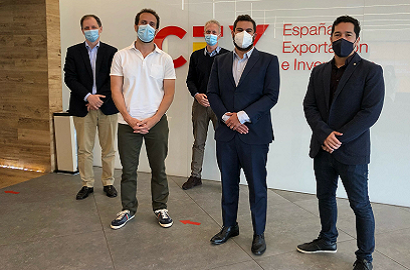 24 January 2022
The Rising UP in Spain programme from ICEX-Invest in Spain is focused on attracting foreign entrepreneurs who want to get established and grow in Spain
The selected startups are provided with the facilities to collaborate with Spanish companies, integrate into the innovation ecosystem, access highly qualified human capital and expand funding possibilities.
Rising UP is aimed at startups from all over the world that want to establish themselves in Spain and grow alongside local partners. The requirements are as follows:

·   Be open to collaborative technological innovation.

·   Startups must present a project to establish themselves in Spain.
·   Local partners in Spain must offer a collaboration project with the startup they accommodate.
The programme is a win-win for foreign startups and their local partners in Spain: working space in the premises of a local partner in Spain for at least six months, ease in obtaining entrepreneur visas, legal advice and administrative procedures to establish the startup in the country, media visibility, and access to investors and meetings for startups in Spain.
Alberto Sanz Serrano, Director of Financing and Investor Relations at ICEX-Invest in Spain, talks to El Referente about the programme and its next call for proposals.

You are about to launch the sixth edition of the Rising UP in Spain programme, how would you assess the editions that have taken place so far?
Since Invest in Spain launched the programme in 2016, Rising UP in Spain has been a great success, both for the number of foreign entrepreneurs who have been interested in participating and for the quality of its projects. During the first five calls for proposals, more than 1,400 foreign startups from around 90 different countries applied, of which 70 were selected. In the last five years we have learned a lot from entrepreneurs and we have introduced changes to make the programme more interesting for startups coming from abroad to set up in Spain. This experience with startups means we look forward to a new call for proposals that will bring important new features and that we are convinced will make the programme more attractive.
One of your objectives is to position Spain as a technology reference centre. What is the current situation? How do we look from outside Spain?
Spain has become one of the most important technology hubs in Europe. In 2021, multinationals such as Microsoft, Vodafone, Google, IKEA and IBM announced plans to locate their technology centres in Spain. Many Spanish cities are thus on a par with other European capitals in becoming the headquarters of these international technology centres, thanks to high professional qualifications, competitiveness and the capacity to attract global talent.
Similarly, Spain currently represents an excellent opportunity for entrepreneurs who want to develop their technology businesses. The possibility of using Spain as a gateway to either the European market, with 500 million people, or the Latin American market, is a huge competitive advantage from which startups setting up in our country are currently benefitting.

How has the ecosystem in Spain changed with the pandemic? What has been your experience?
The startups taking part have adapted to the circumstances caused by COVID with great flexibility and shown a capacity to reposition their products and business models to accommodate this new situation. We had to make the deadlines more flexible and rethink the activities, which made us realise we have to adapt the programme to the startups and not the other way around. The 2020 Rising UP in Spain call for proposals received significantly more applications than the 2019 pre-pandemic call.
It is also an excellent time for the entrepreneurship ecosystem in Spain, which is not going unnoticed in the world. After overcoming the uncertainty of the first few months of the pandemic, venture capital investment in domestic startups is breaking records. In 2021, the amount of investment attracted by startups in Spain tripled the 2019 figure. Moreover, it is confirmation that large international funds continue to invest actively in Spain and at an earlier stage than previously.

In short, we can say that the Spanish ecosystem has taken a leap forward in maturity, as a result of increased confidence in Spanish companies and the credibility of the entire ecosystem.

Another of your goals is to attract international talent and innovative ideas. To what extent does the new startup law help with this?
The bill submitted to Congress includes important measures that make the Spanish market attractive. There has been an improvement in tax treatment, particularly for the granting of stock options to startup employees and to encourage investment; bureaucratic hurdles have been removed and procedures have been made more flexible to encourage creation and investment in technology-based startups. It also includes important initiatives to attract and bring back international and Spanish talent, encouraging "digital nomads" to settle in Spain. The bill provides for the opportunity to live and work in Spain for five years and benefit from a special tax system, paying non-resident income tax.
Although the law on startups is still in the parliamentary stages, we hope that it will make Spain one of the most attractive countries for establishing startups, companies that form the basis of the new digital economy and create highly skilled jobs.

Why is it important to have this talent transfer between Spain and the rest of the world?
In an increasingly global and competitive environment, the transfer of knowledge is essential, especially in the entrepreneurial ecosystem.
This talent transfer is enriching Spain in its transition to digitalisation of the economy, leading to improved production processes at companies, new forms of business that did not exist until a few years ago and the creation of jobs with high added value.

For international startups, setting up in Spain means being part of a vibrant innovation ecosystem, accessing a market that is a gateway to the EU, Latin America and North Africa, and securing funding from national and international investors, who are increasingly interested in our ecosystem.

What role does Rising UP in Spain play in this respect?
The new edition of Rising UP in Spain, which we will be launching in the coming weeks, is a win-win for everyone involved. The foreign startup is quickly integrated into the Spanish business world alongside a local partner, lending its technology to the specific requirements of its partner. In addition, the local partner provides it with a working space and it receives a tailor-made soft-landing and acceleration programme. In return, the local Spanish partner gains access to the foreign startup's talent in order to develop a technological solution.
One of the new features of this programme edition is that the selected startups will work for six months with a local partner in Spain. Who are these partners? What will this experience bring to them?
Any company or institution established in Spain, from any industry, that wishes to collaborate with a foreign startup can be a local partner. Participating in this programme will provide them with solutions to their specific business technology needs. Collaboration with a local partner will be key to encouraging the startup to set up in Spain.
What other services will startups receive? What do they value most about your work?
Rising UP in Spain is a comprehensive soft-landing programme that provides numerous advantages to foreign beneficiary companies, such as legal advice on establishing a startup in Spain, visa facilitation, help with administration and management procedures to set up in the country, access to internationalisation services provided by ICEX to companies established in Spain or facilitating attendance by startups at major events. The call for tenders is currently open (until 20 February) for the technical assistance that will support us in the evaluation of foreign startups, in soft-landing and acceleration, and in providing startups with legal advice and helping them with administrative procedures in Spain.
In fact, the programme begins with an online setting up programme (Bootcamp-100) over five days where the best startups will learn about the innovation ecosystem in Spain and the practical aspects of implementation, as well as getting to know the Spanish companies and innovation hubs with which they can develop new technological solutions.

In addition, a six-month collaboration with a local partner will provide them with a workplace during this period and the opportunity to create a network of contacts in their industry.

Five years of programme experience has taught us that an understanding of the Spanish entrepreneurial culture, as well as the connection with the Spanish ecosystem, is what participating startups require most.

What is the selection process like? What are you looking for in companies in terms of technology, their teams, etc.?
Applications are assessed by a team of experts according to the level of innovation, scalability, management team, as well as the feasibility and commitment of their investment project in Spain. The 100 highest ranked startups at the end of Bootcamp-100 negotiate a collaboration agreement with a local partner, guided by an expert consultant to ensure a complementary relationship. We aim to achieve 50 collaboration agreements with local partners in this first edition, which we will increase in the future.
What is the hardest part of the process?
The hardest part of the selection process is having to choose; you never know which talent might get overlooked. In fact, last year we worked successfully with several startups that had not initially won: we helped them find partners and some of them have managed to set up in Spain. It is also difficult to witness a startup fail in its attempt to get established in Spain, but this is inherent in innovation and is a fundamental source of information for us to improve the programme.
What is really hard is seeing talented young foreigners get stuck in administrative procedures they do not understand, such as visas, NIEs (foreign national ID numbers), notaries, taxes, etc. If these procedures are already quite complicated for those of us who are more or less familiar with them, then they are even more so for people coming from abroad. These procedures should all be better integrated, available in English and more intuitive, without losing the administrative discipline required.

Now in its sixth edition, do you hope to continue with the programme? What are your goals for the future? What would you like to change or improve?
The sixth edition, which will be launched shortly, offers some new features that are the result of past experience and the requirements of participating startups. There will certainly be more updates in the future, because it is a dynamic programme that adapts to changes in the ecosystem and the demands of the sector, but our intention is to make it the reference programme for attracting foreign talent to Spain. We would love to be able to organise a thematic programme and, rather than operating in editions, to be permanently open.
Source: El Referente
Read the full interview: Rising UP in Spain soft-landing programme (elreferente.es)