Bloom Energy brings electrolyzer to Spain, teaming up with Telam Partners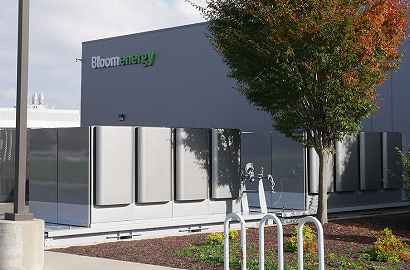 24 January 2023
Its highly efficient design will make the production of green hydrogen both easier and more economical
US company Bloom Energy has decided to bring the Bloom Electrolyzer to the Spanish market, thereby allowing the low cost production of green hydrogen. To boost the firm's entry to Spain and Portugal, it has teamed up with Telam Partners, a leading Spanish consultancy firm specialising in the financing and market entry of energy, infrastructure and technology projects.
The two companies will work together to market and deploy the Bloom Electrolyzer and the Energy Server, a solution that produces energy without combustion and is designed to power ships docked in port and decarbonise their shore-based operations. This is the first agreement signed by Bloom Energy to enter the Iberian market.
Solid oxide fuel cells
Bloom's electrolyzer operates with solid oxide fuel cells, whose high level of efficiency has been proven in tests carried out at the US Department of Energy's laboratories in Idaho. This system provides sustainable hydrogen at a low lifetime cost. The company has underlined the fact that it is well suited for large-scale installations, as well as projects such as ammonia and renewable fuels synthesis, which can be integrated with the electrolyzer.
As for the Energy Server, its operation is based on the use of highly efficient fuel cells, which can be fed with natural gas, biogas or hydrogen. The great advantage is that it produces electricity without combustion, thus significantly reducing carbon emissions compared to the diesel-powered gensets normally used by ships when they are at berth.
Green transition policies
According to the Californian company's Senior Managing Director of International Business Development, "Business and political leaders are looking for clean technologies and energy solutions". In response, he says, "Bloom is now engaged to address these priorities in Spain and Portugal. Telam is a partner of choice, supporting Bloom's long-term commitment to the Iberian Peninsula and to respond promptly to green transition policies and the environmental imperative."
Jaime Malet, the CEO at the Spanish company, is enthusiastic about being "able to work with the solid oxide fuel cell leader on the very important and urgent challenge of transitioning towards renewable energy." He added that, "We are convinced that Spain and Portugal, thanks to an abundance of wind and solar resources, are among the clearest candidates to lead the production of green hydrogen in Europe."

Photo: Bloom Energy