Covestro inaugurates its most sustainable chlorine plant in Tarragona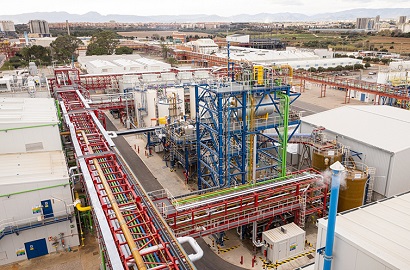 15 February 2023
The German multinational has invested 200 million euros and will create 50 new jobs
Covestro has started up a new chlorine production plant in Tarragona. It is the first factory worldwide that will use ODC (oxygen depolarized cathode) technology, an innovative and energy efficient solution developed by the company with its partner Thyssenkrupp Nucera.
The German multinational has invested 200 million euros in constructing the new plant and has created 50 jobs. Its start-up ensures an efficient, sustainable supply of chlorine and caustic soda, elements used to produce MDI, a precursor for the manufacture of rigid polyurethane foam, which it supplies to its customers for insulating refrigeration appliances and buildings.
Energy savings
The new ODC technology represents a 25% energy saving compared to conventional electrolysis as it requires a lower voltage. This saving will also allow the company to emit up to 22,000 tonnes less of carbon dioxide per year at the facility in Tarragona, thus contributing to Covestro's zero-emissions target for 2035.
Covestro is one of the world's main manufacturers of polymer materials. In addition to chlorine, the factory will also produce caustic soda for the Iberian and European markets. Both products are vital in the chemical industry and are also key raw materials for many other strategic sectors. The company has customers around the world in such varied sectors as mobility, construction, housing, electricity, electronics, sport, leisure, cosmetics and health, in addition to the chemicals industry.
Independent supply
CEO Markus Steilemann said that the successful start-up of the plant is "good news, both economically and ecologically, for Covestro and our site in Tarragona". He also explained that "The plant demonstrates how new technologies enable us to advance our vision of the circular economy and further reduce resource consumption while increasing the robustness and efficiency of our production network."
Meanwhile, Andrea Firenze, General Manager of Covestro in Spain, stated that, "The arrival of this plant allows us to significantly strengthen Covestro's MDI production in Tarragona. Being able to have our own, independent supply of chlorine gives us the ability to further increase the efficiency and competitiveness of our MDI plant. Moreover, the new plant also strengthens Tarragona's position as the benchmark for chemistry in southern Europe, promotes the economic and social development of the area and generates new jobs both directly and indirectly".
Photo: Covestro