Belgian IMEC centre to open branch in Spain to strengthen cooperation with national microelectronics ecosystem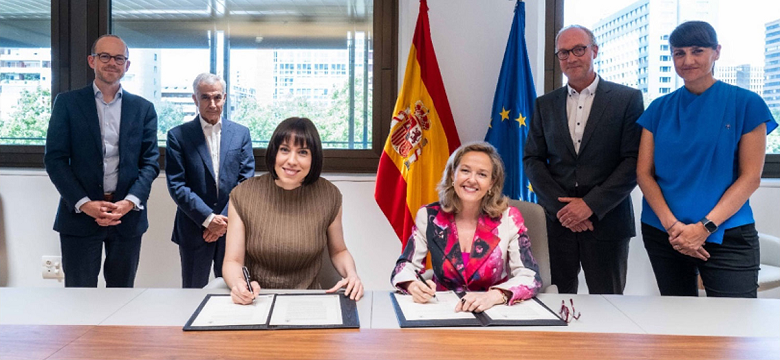 12 September 2023
The centre's arrival in Spain is thanks to the PERTE Chip instrument for public-private partnership
The Interuniversity Microelectronics Centre (IMEC), based in the Belgian city of Leuven, has signed a declaration of intent with the Spanish ministries for Economic Affairs and Digital Transformation and Science and Innovation, expressing its interest in setting up a centre in Spain.
IMEC is the world's leading centre for research and technology transfer in the field of semiconductors. Its announcement is in line with its strategy to intensify cross-border partnerships with other EU countries and its arrival in Spain is thanks to the Strategic Project for Economic Recovery and Transformation for the area dedicated to semiconductors (PERTE Chip).
Enhanced collaboration
IMEC's announcement was posted on its official Twitter account, with a message full of optimism, "We are delighted to confirm that we foresee enhanced collaboration in Spain within the context of its #PERTE_CHIP programme. We look forward to building a presence in Spain and are excited about the possibilities ahead."
The aim of the PERTE Chip is to generate a driving force and a multiplier effect for the microelectronics ecosystem in Spain. The arrival of IMEC, a world leader in R&D in the field of semiconductors, is expected to help boost investment from international companies and create highly skilled jobs.
Major international operators
The First Vice-President and Minister for Economic Affairs and Digital Transformation, Nadia Calviño, and the Minister for Science and Innovation, Diana Morant, were present in person to sign the declaration of intent with IMEC on behalf of the Government of Spain. The institution currently employs over 5,000 researchers from 95 countries and has more than 600 industrial partners, including all the major international companies in the industry.
The official PERTE Chip website links this announcement to others that have already been made by "major international operators in the field of semiconductors and microelectronics". These include Intel, Cisco and Broadcom.
Photo: IMEC and PERTE Chip