Norrsken Opens Southern Europe's Largest Startup Hub in Barcelona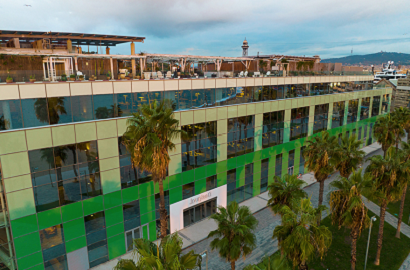 10 November 2023
It covers 10,000 square metres on three floors plus a terrace and has received a ten-million euro investment
Swedish foundation Norrsken has opened a 10,000-square metre technology and innovation hub for startups in Barcelona, which it describes as the largest technology and impact centre in Europe. The three-storey Norrsken House Barcelona faces the sea and is topped by a terrace with free and direct access from outside.
Founders, investors, talent and facilitators will find their space in the new hub, where the promoters aim to make it easier to find partners, resources and even friends to help businesses grow. The city was chosen because the founders see it as the leading hub for startups in southern Europe. Indeed, according to their data, Spain is winning the technology race in this part of the continent, with Barcelona leading the way in the number of unicorns in the country.
Refurbishment of the building
The Barcelona hub has space for 700 startups, with different types of workspace and event areas to suit them all. The foundation budgeted six million euros for the work needed to bring the building up to standard, including the creation of an event space, a café-restaurant on the fourth floor with an accessible roof terrace and, of course, a general refurbishment to create workspaces, most of them with glass partitions to separate them. In statements to the media such as La Vanguardia, its managers later increased the investment to ten million euros.

Startups Cooltra, Mitiga Solutions, ClimateU and Ocean Ecostructures are among the more than five hundred that have joined Norrsken House in Barcelona since the project was announced in October 2022. The headquarters occupy and rent part of the offices belonging to fashion company Desigual.

Sustainable Development Goals
Norrsken has designed an impact ecosystem based on two factors: entrepreneurship and new technologies. Barcelona is its third hub, after Stockholm (Sweden) and Kigali (Rwanda). Its five funds have so far raised $500 million to support entrepreneurs. The non-profit foundation primarily hosts startups aligned with the UN Sustainable Development Goals.

On 24 November, Norrsken House Barcelona will host a launch party to welcome its first members.

Photo: Norrsken