Novartis chooses Spain in fight against cancer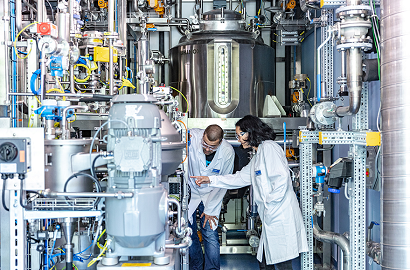 31 January 2023
The company will manufacture a new drug in Zaragoza, and develop diagnostic methods in Barcelona, Murcia and Salamanca
Novartis chose Spain for its production plants following the European Commission's recent approval of Pluvicto, a targeted therapy to be used to treat prostate cancer that significantly reduces the death rate and side effects of this disease. After successfully passing phase 3 trials, it is the first radioligand therapy (RLT) available for patients suffering from the advanced stage of this disease.
Zaragoza was one of the plants chosen to meet global demand for this type of RTL[UdW1]  therapy, along with the plants in Ivrea (Italy), New Jersey and Indiana (USA). Three of the company's other Spanish plants will also be involved in this type of therapy, in this case at the diagnostic stage. These will be those located in Barcelona and El Palmar (Murcia), and the new plant in Salamanca.
Committed to development
It is no coincidence that Novartis' Spanish plants specialising in radiopharmaceuticals have played a role in the development of this new medication for treating prostate cancer, as the group's CEO for Spain, Jesús Ponce, recently explained to Invest In Spain. In 2022, the Swiss company announced an investment of 1.5 million euros in the expansion of the plant in Almunia de Doña Godina (Zaragoza), suggesting that there was to be an increase in production, which the arrival of Pluvicto has confirmed.
Production at the factory in Aragón will in fact increase five-fold, export capacity will double, and a further twenty employees will be joining the workforce, almost doubling the current number of staff (22). Another significant investment is being made by the company in the construction of the Castellanos de Moriscos (Salamanca) plant, 12.9 million euros being allocated with the aim of boosting its nuclear medicine projects.
According to Novartis, the plant in Salamanca will be the most modern in Europe for the production of the latest generation of cancer drugs. When it begins operating, foreseeably in late 2024, it will provide jobs for 20 people, and will work alongside the Barcelona and Murcia plants on the development of diagnostic methods for prostate cancer, a fundamental additional tool in the fight against all diseases.
Locate and eliminate
Radioligand therapy consists of administering a ligand compound that can locate cancer cells and adhere to them via radioactive particles that emit targeted radiation and directly attack the tumour while having a minimal effect on the surrounding tissue. Novartis' new drug is recommended for patients with advanced stage cancer who have already received other treatments. Its use in earlier stages of the disease is currently being studied.
In men, prostate cancer is the most frequently diagnosed form of the disease in 112 countries - over half of the world. In 2020 alone, 1.4 million cases were diagnosed, and prostate cancer was the cause of 375,000 deaths.
Photo: Novartis