Power2X to develop green hydrogen project in Ciudad Real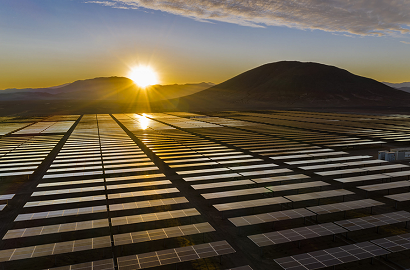 22 May 2023
The project includes a photovoltaic plant and represents an investment of more than one billion euros, joining forces with Spanish company Soto Solar
Dutch firm Power2X and Spain's Soto Solar have joined forces in the development of a 1.2GW solar power project and a green hydrogen plant with a capacity of at least 500MW, amounting to an investment of more than one billion euros. As announced at the World Hydrogen Summit 2023 in Rotterdam, the projects will be located in the important industrial area of Puertollano (Ciudad Real), guaranteeing demand for the energy they produce.
The main objective is to supply renewable hydrogen to local industry in order to reduce the consumption of other fuels. According to project partners ErasmoPower2X, their proposal will achieve an annual reduction of more than one million tonnes in carbon dioxide emissions. Not surprisingly, the company claims that this is one of the largest green hydrogen projects announced in Europe to date.
Access to renewable energy
The partnership with Spanish solar power project developer Soto solar will facilitate implementation of the plan for Power2X. Spain was chosen because it is an attractive country for competitively priced green hydrogen production, thanks to access to low-cost renewable energy. The electricity produced by the solar power plant will be used to power the electrolyser, which will produce around 55,000 tonnes of green hydrogen per year.
The project is currently in the development phase, awaiting completion of the procedures required to take the final investment decision, which is expected at the end of 2025. Construction will then begin, with the aim of commencing production in late 2027. A total of around 2,500 jobs will be created between the construction phase and when the plant becomes operational.
Spanish hydrogen corridor
The partners have stated their interest in expanding the project and taking on further projects in Spain, and they are already exploring possible opportunities. Puertollano will not only be able to supply local industry, but it will also have access to the future Spanish hydrogen corridor, making it possible to reach other buyers. An agreement has already been signed with a major company that is planning to replace fossil-based raw materials with green hydrogen.
Niels Van Buren, a partner at Power2X, welcomed the future investment, "This utility-scale integrated green hydrogen project will be amongst the largest in Europe". Meanwhile, ErasmoPower2X CEO Bas Dekker is confident that "this project will not only benefit Spain but will also help us move closer to a more sustainable future".
Socio-economic development
María Trinidad Navarro, managing director at Soto Solar, added that "socio-economic development is in the DNA of this project, and is one of the keys to achieving the energy transition goals at all levels. This strategic alliance with P2X will reinforce that approach, bringing in an experienced team of experts with the same strategic vision".
The Regional Government of Castile-La Mancha and the National Hydrogen Centre (CHN2) have both expressed their support for the implementation of this project. The partnership between Soto Solar and Power2X is aligned with the memorandum of understanding signed between Spain and the Netherlands in February this year to promote cooperation in the development of green hydrogen.

Photo: Power2X