Lufthansa opens digital branch in Barcelona, its first in Southern Europe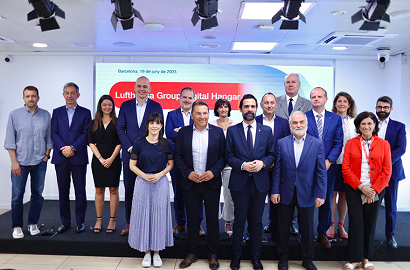 03 July 2023
300 technology jobs will be created at its "Digital Hangar", to be operated by the Catalan company Quantion
German Lufthansa Group's Digital Hangar was created in 2022 to drive its digital transformation, and its headquarters for southern Europe will be in Barcelona. With a multi-location strategy, the department now employs over 1,000 people in digital branches in Brussels, Frankfurt, Gdansk, Vienna and Zurich. They will gradually be joined by the 300 employees the company plans to recruit in the Catalan capital over the next few years.
The Barcelona digital hub is expected to be up and running in the coming months. The office will develop new technology solutions for Lufthansa Group airlines in areas such as in-flight user experience, bookings and customer service. This digital branch will be operated by the Catalan company Quantion, whose staff includes 120 technology professionals with a mission to help companies accelerate their digital transformation projects.

Employee profiles
The new office has started selection of the profiles to be hired in its first phase. These include product owners, Agile coaches, solution architects, scrum masters, business analysts, software engineers, UI/UX designers and data & analytics specialists. They will be involved in projects such as state-of-the-art booking procedures, multi-channel self-service tools and the creation of on-board digital portals offering tailored information to each passenger.
Some of the group airlines that will benefit from the work of this digital hub include Austrian Airlines, Brussels Airlines, Lufthansa and Swiss International Air Lines. The German company has been supported in the process by Acció-Catalonia Trade & Investment, the Generalitat de Catalunya's agency for business competitiveness.
Digital innovation
Digital Hangar CTO Christian Spannbauer pointed out that Barcelona "brings together many different cultures and attracts the highly qualified people we are looking for to drive the Lufthansa Group's digital ambitions and ongoing growth." He added, "I am delighted by the fact that, thanks to the partnership with Quantion, we will welcome 300 new digital talents to the Digital Hangar ecosystem over the coming years, strengthening the digital innovation power of our airlines to deliver digital products and create real added value for our customers."
Quantion CEO Jordi Griful, for his part, described this challenge as "a great opportunity for Quantion, but also for all the digital talent that, thanks to this new headquarters in Barcelona, will have the chance to be part of a unique, flagship project in the new technologies sector."
For the Catalan Minister of Enterprise and Employment, Roger Torrent, the decision to locate this centre in Barcelona "reinforces our position as one of the great European epicentres of technology and innovation: we are the region that has best combined strong industrial development with the generation and recruitment of talent, the presence of a rich startup ecosystem, technology centres, universities and ICT companies."
Photo: Quantion