Yaskawa opens new Iberian Peninsula headquarters in Barcelona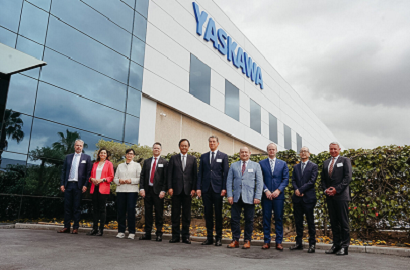 29 May 2023
The company has invested three million euros in this strategic site for robotics and industrial automation
Japanese firm Yaskawa has opened its new Iberian Peninsula headquarters in Viladecans (Barcelona), with an investment of three million euros. The company specialises in the development and manufacture of automation and industrial robotics solutions, and plans to expand its presence in Spain from these new facilities.
With a track record spanning more than thirty years, Yaskawa Ibérica aims to double its production by 2027, reaching a turnover of 30 million euros. The facilities are poised to triple the current figure in the longer term. The new headquarters also aim to create new jobs and boost the training department.
Robot density
The strategic plan responds to an increase in demand for industrial robots, which is set to break records in 2022, according to the International Federation of Robotics' (IFR) World Robotics Report. These figures rank Spain as the fourth country with the most industrial robotics facilities in Europe, and one of the fifteen with the highest robot density in the world, and the forecast is that this demand will continue to grow.
The new headquarters, described by the company itself as a "strategic enclave for the robotics and industrial automation sector", could potentially triple the size of the previous facilities. They also make it possible to double the workforce. Alongside the production area, a space of more than 3,500 square metres has been created, divided between a showroom and the training area, called Yaskawa Academy, and equipped to provide specific product training. 
New sales offices
In addition to the Barcelona headquarters, Yaskawa Ibérica has recently opened three sales offices, in the Basque Country, Madrid and Valencia. These branches will also help to consolidate synergies between its two divisions: Robotics and Drives, and Motion & Control.
Managing director of Yaskawa Ibérica, Laurent Bodin, speaks of the inauguration as a milestone, "As it allows us to continue to strengthen our position in the market, and respond to an industry that increasingly demands more solutions and is committed to the implementation of automation solutions for its production processes".  
Photo: Yaskawa