Since joining the Hutchinson Group, Catelsa Cáceres has become a key pillar of the multinational's strategy
Catelsa Cáceres has just celebrated its 50th anniversary, and for 35 of those years it has been part of the multinational Hutchinson. The company's 235 employees, together with the 115 staff members in Tangiers who are part of the same subsidiary, manufacture a range of high-tech products and materials, primarily for the automobile industry. It is a benchmark factory for car body, steering and brake system parts. More than 100 million units are produced each year at its facilities in Extremadura, 95% of which are exported to more than 30 countries.
But Catelsa Cáceres is not solely a production centre for rubber parts and compounds. Its facilities  also house a design centre dedicated to technical solutions and the industrialisation of products that will later be manufactured in Hutchinson's plants in Morocco, Romania, Poland, China, Mexico, Brazil and other countries.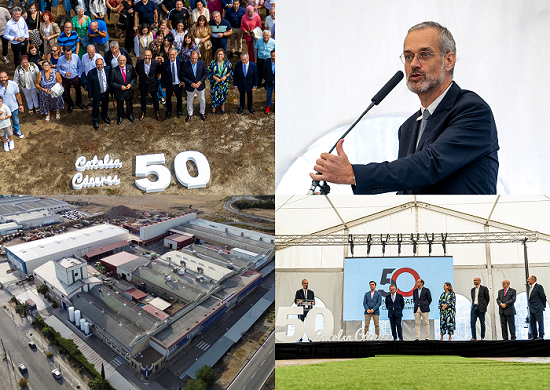 The Catelsa Cáceres plant has just celebrated its 50th anniversary. How has it evolved since its beginnings?
The factory's ability to adapt to the various challenges that have arisen along the way has defined its DNA. We are a dynamic company that has always adapted to complex and changing circumstances. We have gone from being an extension of a Basque industrial group to forming part of one of the most prestigious multinationals in the automotive industry. There has been an evolution from processes based on physical effort to highly automated ones. Once a delocalised production plant, it now leads the development of products and materials that will later go into series production on four continents. The company has evolved from manufacturing rubber products to developing multi-material and multi-component parts, seeking and designing technical solutions that now also include a carbon footprint efficiency component. Catelsa Cáceres has taken a step further in its evolution, not only by starting to manage and quantify competitive market propositions, but also by considering how to minimise the carbon footprint. For example, in terms of the family of cabling technologies, we have managed to come up with a competitive approach that succeeds in halving the impact of CO2 emissions when compared with the standard existing solution. Our commitment to sustainability and the environment is already starting to pay off.
How did the merger with the Hutchinson Group come about?
The two existing Catelsa factories saw that it was not possible to remain isolated in an automotive industrial environment that demanded internationalisation in order to be able meet customer needs. This is why they became part of the French industrial group Hutchinson in 1989.
What significant investments has the group made in the Extremadura subsidiary over the years?
Apart from constant renovation through the introduction of a fleet of injection machines and increasingly automated processes, one of the most noteworthy events in our history was the installation of a compounding line as a transition in the search for new sealing solutions and the move from solely manufacturing rubber products to also producing thermoplastics.
What other infrastructure does the Hutchinson Group have in Spain?
At present, the Hutchinson Group has three factories in Spain, each one catering to totally different needs. The one in Arganda (Madrid) is dedicated to bodywork sealing using extruded and overmoulded seals made of rubber and thermoplastic for doors and windows. The Vitoria factory supplies solutions in foamed materials, focused on acoustics and transformed with die-cutting or thermoforming processes. And at the Cáceres factory, we produce precision sealing solutions using injection moulding processes for rubber and thermoplastics.
How important is innovation in a factory that creates its own designs, developing and industrialising its own products?
Without innovation in materials, products and processes, we would never have been able to come so far. Innovation, based on necessary investments, is always triggered by the enthusiasm of a team of people who love a challenge. It always has been, and always will be, a basic differentiating factor that sets us apart from other players.
How important is Spain for the group's strategy?
Spain has always been one of the keys of the Hutchinson Group's strategy. The area south of the Pyrenees offers alternative solutions to the outsourcing to Eastern Europe proposed by the French multinational. Cáceres promoted and pioneered the creation of the first plant in Portugal, which today is one of the world's leading factories for the manufacture of O-rings, and at the same time our main customer in Cáceres in terms of turnover. Following this project, two more factories were set up in Portugal, which is now a benchmark country for Hutchinson. A similar process was implemented in Morocco, where we were pioneers in creating a factory that today is managed from Cáceres, and that allows us to provide flexible solutions adapted to the increasingly complex needs of our customers. Other plants in the group followed in our footsteps, and today the country is one of the multinational's main avenues for expansion.
95% of production is exported. What is your customer profile?
We work with the major European car manufacturers (OEM), such as the Stellantis group (Peugeot, Citroën, Opel), Renault, Toyota, the Volkswagen group and others. We also work with tier one companies such as Bosch, ZF, Continental, Leoni, Yazaki and Sumitomo.
What are the next challenges?
The factory is continuing to work on the challenge of innovating products and processes through major renovation and modernisation projects at its facilities, in order to be able to provide our customers with the best possible service. Sustainable innovation is, and will always be, a differentiating element that will enable us to continue to build on the history of this wonderful adventure.
Photos: Catelsa Cáceres (Hutchinson Group)