Codurance expects to have 80 employees this year, almost double the current number. The plan is also to open an office in Malaga, the "Spanish Silicon Valley."
Founded in London in 2013, Codurance is a software consultancy that helps companies to grow, improve their business flexibility and accelerate their capacity for innovation. And it does so with a team of consultants and experts in software craftsmanship, flexible delivery managers, and platform engineers.
The company chose Spain as the place to start the internationalisation process in 2016, and it now has offices in London, Manchester, Barcelona, Madrid and Lisbon, as well as remote workers in six different countries. It serves clients from a wide range of industries in Spain, focusing in particular on those who wish to innovate in highly regulated environments, such as the banking and pharmaceutical industries.
Why did you choose Barcelona for your first office outside the United Kingdom?
Barcelona has been, and continues to be, a strategic location for any technology consultancy. In our case, there were three key contributing factors. Firstly, the entrepreneurial ecosystem is so rich that many technology startups and multinationals choose to establish their technical and innovation teams in the city. Secondly, in terms of the way of doing things and values we have a lot in common with the vibrant communities of professionals in the field of software craftsmanship, as well as with flexibility experts. Lastly, there is of course the city's cosmopolitan atmosphere. This makes it an especially attractive place for sourcing talent and for very successful projects with international investment.
How has this decision worked out?
In the last three years we have experienced exponential growth, both in terms of the team and our turnover. The pandemic, remote working and competition for talent are some of the challenges we have had to successfully address. This has required us to mature as a business and as an organisation. Along the way we've learned from our errors, reflected on who we want to be in the present, and how we see ourselves in the future, and we've drawn up a growth plan which is being strengthened day by day.
How important is Spain in the company's strategy?
Spain certainly has a strategic role in the company's global plans. Our business is growing and doing so in a sustainable way, something which is essential for us. We closed 2021 with a 180% increase in our Spanish turnover, and this has enabled the company to make a very serious commitment regarding growth plans in the country. In addition, with the United Kingdom's exit from the European Union, the role of Spain as a hub is essential for the company's growth within Europe. Establishing ourselves in Madrid has been the first step in expanding our brand beyond Barcelona and reaching the south. Malaga will be the next step, for very obvious reasons. The city's momentum and growth in the industry means that we have to keep our eye on it and include it in our plans for the near future.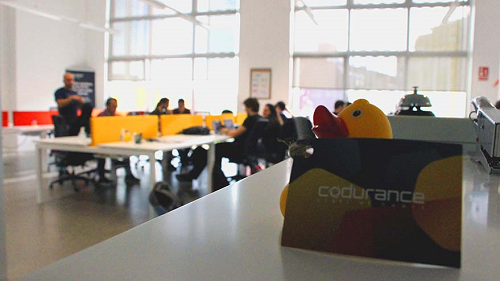 Your model prioritises remote working. How many employees do you currently have in Spain and where do they work from?
There are now 46 people in the Codurance Spain team, and all of them work remotely. They're based in a wide range of locations: Granada, Seville, Zaragoza, Bilbao, Valencia, Huelva, Madrid, Murcia, Vigo, Huesca and some towns near Barcelona. You can work from anywhere in Spain, as long as you have a good internet connection and optimal conditions for performing your tasks remotely. Our model is straightforward: we all work remotely, but if anyone feels like working in the office, or would prefer to do so, they can use those in Barcelona and Madrid. Before Covid-19, our model already featured remote working as an option. Then Covid-19 arrived, and it was very easy for us to adapt. We were able to confirm that "full remote" worked perfectly, and we decided to implement it as the standard model. We're not going to deny that it does require a certain amount of discipline, that it needs to be based on agreements, commitment and trust established between all team members, and that we often miss each other. However, this is why we regularly organise team-building sessions and open up spaces where we can meet up and share experiences that help us to work better together as a team.
Nevertheless, you have just opened an office in Madrid. Why did you decide to take this step?
Because we want to expand our brand beyond Barcelona. We already have experience in Madrid, as well as some clients whose headquarters are located there, and this is a natural step if we want our brand to grow in Spain and strengthen our position as a leading consultancy firm. Again, working in the office is optional for the team; it's a place where we can meet up and organise face-to-face meetings with clients when requested.
What is Malaga's appeal for Codurance?
We already know that Malaga's nickname in the industry is the "Spanish Silicon Valley". It has everything that we could wish for: an entrepreneurial ecosystem of potential clients that just keeps on growing, and excellent professionals who have chosen to move there for the exceptional quality of life.
What do your clients see in you and not in your competitors?
We work with clients like Mango, Santander, Roche, Asos, Cazoo, Verychic, Firmenich, etc. They belong to very different industries, such as retail, banking and pharmaceuticals, to name but a few. We perform particularly well with clients who need to adapt their innovation proposals to highly regulated environments. We love the challenge. We're different thanks to our distinctive way of working, which is based on a culture of software craftsmanship that allows the development of software that's better designed and produced. One that's faster, has fewer bugs and is robust, stable, flexible and simple (generating code that is clear, understandable and easy to modify), and we also offer incremental change processes. Our way of working minimises waste, and reduces both costs and delivery times thanks to the twin pillars of our culture: professionalism and pragmatism. It is also important to highlight that we adapt our processes to the needs of each client and project, offering them personalised solutions. We ensure that business continuity is not affected, as our solutions are implemented while the business keeps working.
Will you continue to hire in order to serve new clients?
We're expecting to have 80 team members by the end of this year. This is our goal, and it stems from the fact that the business opportunities open to us require us to grow in order to meet the needs of the projects we want to carry out with our clients. However, we want to do this in a sustainable way, and by sustainable we mean that we're not going to abandon our organisational culture in order to try and achieve this growth objective. It's a priority for us to work with staff who are both good professionals and good people, so there are a whole range of personal values related to team culture which are fundamental for our planned growth.
What projects do you currently have underway?
We're working on the whole expansion plan we've just been discussing, and that requires a lot of effort and work in all areas of the company. It's essential for us to consider our aim of achieving sustainable growth, while at the same time ensuring that we deliver maximum quality in terms of commitments made with our current clients. We also want to continue to increase our collaboration with software development communities, and to contribute our expertise in all available areas of exchange. We want to strengthen our sense of belonging and work on the deeper aspects of team cohesion. Of course, we also want to increase revenue and gain more clients, as we have the muscle, motivation and potential to do so. 
Photos: Codurance