Evaneos recently closed a financing round of 20 million euros, which it will be mainly investing in marketing and technology
A lifelong seasoned traveller like Yvan Wibaux, his long-time friend and now co-founder and CTO of the company, Eric la Bonnardière was convinced that tourism had become a serious problem for the environment. Together they set the objective of reinventing the industry through trips, making them more respectful of climate and social challenges. Right from the start, they knew that their project had to be online, accessible to everyone.
In 2009 at a trade fair, and through a local agent in Madagascar, Bonnardière and Wibaux quickly understood the importance of being able to count on professionals with local experience at the destination. This would be their added value. They started organising tourist trips to Madagascar, gradually expanding their network of destinations to countries like India and Vietnam, eventually creating Evaneos.
Evaneos is now the leading platform for sustainable tourism, allowing the company to build a close relationship between the traveller and the local expert to design an experience that reflects their preferences and tastes, and which is at the same time respectful of the local people, cultures and communities, its environment and the economy. Over its thirteen years of operation, the French company has generated over 700 million euros for local tourism companies.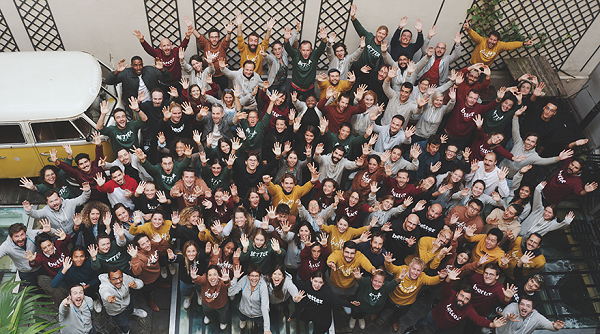 When did Evaneos arrive in Spain?
Spain was the first international market we decided to open after France in 2011, because we understood the interest that the country has in responsible tourism, and we were not wrong. The pandemic has also led to an imminent change of mentality among travellers, who  increasingly seek quality, confidence, safety and who are, of course, now willing to pay extra for their trips because their social and environmental awareness has increased over a short period of time. We remain faithful to our target with regard to expansion and becoming both a benchmark online platform for ethical trips and a European leader.
How did the market receive you and how has it evolved?
The evolution has been favourable, although it has been difficult to assess accurately since 2020 due to the events that have occurred. We now know that 88% of our travellers consider that sustainable tourism and environmental protection are very important to them. What's more, 87% want to have a positive impact on the planet when they travel. Therefore, the reception has been very good, and Spanish people are increasingly seeking more responsible alternatives when it comes to travel. We are aware of the increase in the number of these searches because they visit our platform, even though they are not always converted into bookings. We have many new travellers every year and our aim is to receive them in the best way possible, offering them a unique experience that assures us they will come back and book their next trip with us, which has been the case with many of our customers.
You recently closed a financing round of 20 million euros, and looked to Spain among the targets to invest this capital. How much do you intend to invest in our country and how will you spend it?
Spain is one of our priority markets this year. We aim to at least reach the 2019 levels in order to focus our investment in sectors such as marketing, expanding our routes offered, the number of local agents, technology, product development and websites in order to offer a better experience to travellers.
Do you envisage investing in R&D in Spain?
At Evaneos, investment in R&D is done on a global scale in all markets: when we work to improve the platform, service or offer, we do it for all of our seven markets simultaneously (France, Spain, Italy, Germany, Belgium, Holland, Switzerland) from our headquarters in Paris.
What infrastructure do you have in Spain?
All our teams are currently based in Paris, where we have our head office, and some employees work remotely from different parts of the world. We do not have an infrastructure in Spain at the moment, as we needed to restructure the company during the pandemic. But we are investing in developing the market, and we are presently working with 228 Spanish-speaking agents and 118 agencies.
We have three agencies in Spain and 12 agents for travellers wishing to visit the country.
How important is Spain for the company's strategy?
Spain is currently our third market, and we are increasing investment in both Spain and Italy, markets that Evaneos consider to be priority markets in 2023.
What is your customer profile in Spain?
We have a varied range of customer profiles, but we know that families make up a high percentage in Spain. Spanish families like to travel together, plan their holidays and stay a long time in the destination, taking advantage of these unique moments to share and spend time together as a family. So it is important that the experience is unforgettable for every member of the family. Having an expert to organise activities who takes into account young children or teenagers, and so on, and who accompanies you on the trip, makes it much easier and helps to save time in terms of administration and logistics, because our local agents do everything according to your tastes and preferences.
What other projects do you have planned for the medium and long term?
Our next medium to long-term challenges include increasing our workforce, especially in technology roles to develop the product, making it more attractive to travellers and providing more tools to the agencies we work with, and increasing marketing investment in Southern Europe. This is in addition to expanding our network of travel agents and our range of trips low in pollutant emissions, with transport options such as the train or bicycles. This year we are also seeking to achieve the international Travelife certification for ourselves and our agencies.
Photos: Evaneos