Malaga has been a turning point for Globant's development in Spain and Europe
Globant is a digital native company founded in 2003 which is now present in more than 25 countries, helping organisations to reinvent themselves and boost their potential with the use of engineering on a large scale. In 2023, this multinational company of Argentinian origin was selected for the second consecutive year as one of the ten fastest growing IT services brands and the eighth strongest in the world according to Brand Finance.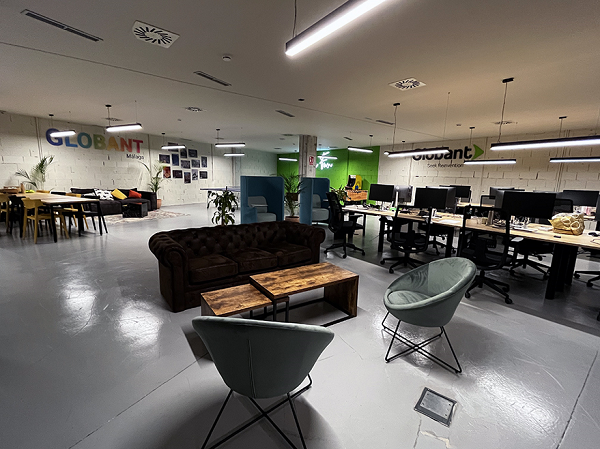 When did Globant arrive in Spain?
Although we have been providing services to Spanish companies since 2013, in 2019 we started a clear process of local implementation and installation in Madrid as a hub to leverage European growth.
How have you been received by the Spanish market?
Spain has large companies with a surprising level of maturity in terms of digitalisation in numerous industries, such as banking and tourism, as well as a rich entrepreneurial ecosystem. We have in addition been warmly received by the market thanks to our offering, which is very innovative and transformational from an organisational, cultural and business point of view, bringing in global clients to whom we provide services from Spain.
What is the profile of those clients?
At Globant we work with global clients from all over the world, such as FIFA, Disney, LinkedIn, Nissan, Google, Electronic Arts and Santander, here in Spain. In this country, our clients are best-in-class companies from all types of industries: banking, tourism, entertainment, airlines, etc.
You have opened two centres in Malaga in just two years. What have you discovered in the Andalusian city?
Malaga has been a turning point for Globant's development in Spain and Europe. In this city, we have found a complete ecosystem that has given us a very warm welcome and allowed us to develop collaborative models with talent, companies and entrepreneurs based in Malaga.
You have four other centres in Spain. What is the role of each of them?
In Spain we are currently present in Madrid, Malaga, Barcelona and Logroño, and we expect continued growth in the coming years. All of these locations were chosen in order to build connectivity at national level, as we have done in other regions. We will continue with this expansion plan that allows us to develop specific technologies such as artificial intelligence.
What have been the most important investments you have made in Spain?
Globant has always grown in a predominantly organic way. However, we do make strategic acquisitions which allow us to enrich our end-to-end value proposition. In recent years, we have made several strategic acquisitions in Europe, such as CloudShift, Bluecap, Walmeric, Vertic and Habitant, which, together with other creative consultancies acquired recently, have now been permanently absorbed by Globant as a new business unit focused on digital marketing and creativity: Globant Create.
What do you do at an innovation centre like the one in Malaga?
In Malaga, we work in the development of disruptive solutions based on artificial intelligence and blockchain, with teams specialising in gaming and fintech projects, among other skills.
How important is Spain for the company's strategy?
Together with the United Kingdom, Spain is one of our main business bases in Europe. For us, it is one of the most strategic markets at the moment, given the wide range of business opportunities it offers and the warm welcome we have received.
What challenges do you have ahead of you?
In addition to continuing our global geographic expansion, we will continue developing our Integral Minds AI program. This consolidates AI and generative AI offerings for our clients, leveraged by Globant's knowledge acquired in this field from the ecosystem of products and platforms that we have been working on for more than eight years, and from our ecosystem of products deployed from artificial intelligence technologies.
Photo: Globant