"Spain is currently a strategic country for our investments in Europe"
GLP's portfolio focuses on Madrid and Catalonia, but has recently reached the Levante region and is now seeking new logistics areas in Spain.
GLP, formerly known as Gazeley in Spain, started operating in our country in 2002 and has been carrying out its activities in Europe for over 30 years. Joining the GLP Group in 2017 boosted its activities from 2018 onwards. The company, which has its headquarters in Singapore, took a big leap forward after that by diversifying to include activities in the logistics real estate market, but without abandoning those it had been involved in as a property developer.
Its portfolio includes leased assets, new warehouses under construction and land waiting to be developed. All the activities are progressing at the same rate. So, while the company is considering new investments, it has also just started construction of the Magna Park Tauro macro logistics park in Illescas (Toledo) as well as designing new projects, and always with sustainability in mind.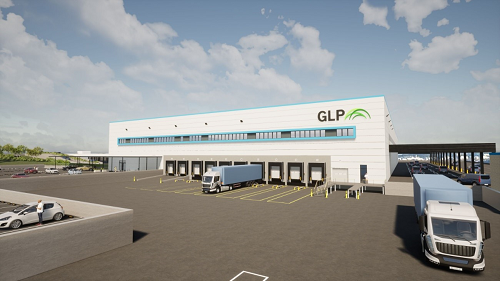 How has GLP's interest in our country developed?
Our first investment in Spain was in Zaragoza in 2002 and was followed by some one-off investments in the central part of the country. We are now one of the main players in Spain, and we are present in the most important markets with some outstanding projects. Our goal is to keep growing until we lead the market, as we already do in other countries and regions.
What is Spain's role in the company's strategy?
At present, Spain is a strategic country for our investments in Europe. The European market is also a strategically important market for our global investment plan. We remain very focused on investing only in prime areas with high demand for quality logistics products, and where we see continuous, sustainable demand in the medium and long term. The centre and Catalonia are the main markets. However, we are already investing in other logistics areas too, like the Levante region, and we are expecting to position ourselves in other logistics areas in Spain soon.
What assets does the company have in Spain?
We currently have a stable portfolio of over 160,000 square metres of fully leased buildings, spread between Illescas (Toledo), Guadalajara and Valls (Tarragona). For projects under construction, we have the capacity to create more than 350,000 square metres of new buildings over the next two years. We do in addition have a land bank of more than 500,000 square metres in strategic areas that will allow us to keep growing and offer quality products where our customers need them.
What investment was needed to build this portfolio?
We are talking about investments involving hundreds of millions of euros, which we intend to continue increasing in an organised, sustainable way.
What is your client profile in Spain?
We have more than a hundred clients across Europe working in a variety of sectors including eCommerce, manufacturing, the pharmaceutical industry and other third-party logistics services. We are passionate about guaranteeing their satisfaction, and we are proud that more than 70% of them are regular clients. They all share a demand for the highest quality and sustainability in the market. GLP is a national and international leader in this area.
What has been your most important transaction in our country?
Last year we completed the acquisition of more than 300,000 square metres of land in Illescas, where we have converted an abandoned industrial site into a new logistics park that will be a benchmark in the country. We have just started building the first 38,000 square metre building in that park, which will be able to house up to 185,000 square metres of logistics buildings. Although not a transaction like the ones you were asking about, I also think it is relevant that 100% of our portfolio is leased to clients who are leaders in their markets. We are very proud of this and it confirms that we chose good locations for developing our parks, as well as the right products.
The logistics industry has grown a lot in recent years. What are the future prospects in Spain?
We are still optimistic about the coming years, although we always insist that investments must be sustainable and resilient to changes in the economic cycle. Companies should always be prepared to offer a product that is competitive for clients and profitable for investors, and it's true that not all products that are being created or acquired meet this requirement. We believe that eCommerce will continue to drive growth in the industry and there will still be a need for spaces that are modern and technologically well equipped. Nonetheless, these must also be in good locations and provide flexibility for the user's operations.
The company is committed to sustainability. How does this apply to logistics buildings?
Since 2005, we have been pioneers in the sustainable development of our projects. Nowadays, this is no longer an option or an extra. It is a necessity, not just for our investors and clients, but also for society. We do not conceive any product that does not aim to reduce the emissions, costs and consumption arising from its use. This means superior insulation, maximised use of natural light, energy optimisation and management systems, as well as the use of sustainable or recyclable materials. I would also like to mention the social and well-being aspects that our projects bring to the communities where we are present and the workers who frequent our logistics centres. All of our projects undergo ESG assessment, and we make efforts to ensure that our properties and operations are pleasant places for workers, as well as beneficial to communities at different levels.
What projects do you have underway and what are the upcoming challenges?

As I was saying, we have started building our Magna Park Tauro in Illescas, and we are going to start building another G-Park in Sagunto (Valencia), where we have already committed to a 50,000 square metre building, and we will shortly start the speculative development of another 37,000 square metre building. We also have other projects in prime locations like Pinto (Madrid) and Madrid-Villaverde (in construction), and in the first half of the year we plan to start in Santa Perpetua (Barcelona) and in the province of Tarragona. We are also working on other locations, some of which are very emblematic and which we hope to be able to confirm in the coming months.
Photos: GLP