The German group has invested around 30 million euros since 2020 in its two plants in Barcelona
Specialising in the manufacture of professional products and services for the healthcare market, the Hartmann Group was present in Spain from the 19th century until the Spanish Civil War, beginning a new phase in the 1980s. Its current investments in its Spanish facilities are ongoing, with the goal of introducing new production lines and boosting exports.
Its Spanish headquarters in Mataró (Barcelona) is home to the company's global development and manufacturing competence centre. The group's other factory in Spain, located in Montornès del Vallès (Barcelona), was acquired in 2017 as part of the company's largest corporate transaction in its 200-year history.
The German multinational, founded in 1818, now markets its products and solutions in 130 countries worldwide. Looking ahead, it is implementing a strategic transformation programme with the support of a highly efficient and customer-oriented team.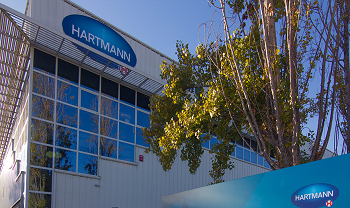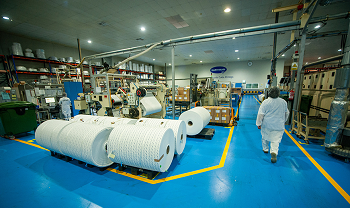 Since arriving in Spain, you have grown organically and through acquisitions. What have been the main milestones along the way?
Hartmann was active in Spain from the end of the 19th century until the beginning of the Spanish Civil War, when it closed its subsidiary. It did not return to Spain until 1988, when it acquired Laboratorios Unitex, a company founded in 1934 and specialising in manufacturing adhesive tape strips, the famous Tiritas plasters. Hartmann decided to create the industrial unit where it is currently located in Mataró (Barcelona) in 1995.
What facilities do you have in Spain?
Hartmann has two production sites in Spain: Mataró is the Spanish corporate headquarters and competence centre for worldwide development and manufacturing. This is the only plant in the group that specialises in manufacturing emblematic products such as Tiritas plasters and Cosmopor and Omnifix dressings. In 2017, the group acquired the Lindor brand and its manufacturing plant in Montornès del Vallès (Barcelona) from the Procter & Gamble Group, in what was the company's largest corporate transaction in its 200-year history.
This year you will complete your investment plan for your Montornés del Vallès plant. What has this plan involved?
This year, 2022, has seen the completion of the investment plan phase that has involved the company allocating a total of 25 million euros to its Montornès del Vallès (Barcelona) plant since 2020. This investment has served to consolidate the factory and make it one of the group's main production centres in the area of incontinence products, through the Lindor brand, as well as increasing its exports by up to 25%. With this investment, the plant has increased its production capacity and digitised its manufacturing processes, making it a pioneering, cutting-edge plant within the group.
You have also invested in the Mataró plant. What was your aim in this case?
In the last two years, Hartmann has invested a total of 3.5 million euros in the Mataró factory (Barcelona). This is the world competence centre for developing and manufacturing adhesive medical devices and is currently focused on worldwide production of the popular Tiritas plaster, as well as dressings and adhesive tape. This investment has enabled a silicone base to be introduced in some of our branded products, such as Tiritas and Cosmopor, thanks to a line that is capable of producing up to 90 million units per year. This is how Hartmann is boosting a range of products with high added value, because the silicone base allows us to meet the needs of those with particularly delicate skin, such as children, the elderly and people undergoing cosmetic surgery or radiation due to cancer.
Do you foresee an increase in employment resulting from these investments?
We are growing with the same resources because we are improving efficiency through investments and digitalisation of processes. However, Hartmann has also set up a worldwide digitalisation hub for the company at its Spanish corporate headquarters in Mataró. We have in fact invested 1.5 million euros between last year and this year, 2022, in digital transformation projects. So far, the company has already hired ten people to develop digital solutions, all of them highly skilled,, and it plans to bring in more staff. The hub is specifically involved in implementing digital transformation projects in fields like infection prevention, surgical facilities and pharmaceutical services.
Hartmann is renowned for its Tiritas plasters and you have mentioned a few other brands. What other products do you manufacture in Spain? Do you carry out R&D in Spain?
Hartmann has launched major product innovations on the international market in recent years, including more silicone-based dressings such as Cosmopor Silicone. We have also launched an artificial intelligence-based system for wound examination, solutions for managing and optimising surgical facilities in hospitals, new equipment with sterile components for infection prevention, and highly effective products for surface disinfection.
What percentage of production in Spain is destined for export? What role does Spain play in your international strategy?
Hartmann's Spanish headquarters in Mataró exports 85% of its products to the rest of the world and is the company's third largest subsidiary worldwide. The plant also coordinates our markets in France, Portugal, Morocco, Algeria and northwest Africa. As of 2022, Hartmann Spain will also export to Africa, as a new company division has been set up in Spain. With regard to the Montornès del Vallès plant (Barcelona) and the company's latest investments, the group plans to increase exports of incontinence products by up to 25%.
Photos: Hartmann