Collaboration with Spanish Bank of Algae in Canary Islands provides superb biochemical research asset
HEALTH MICROBIOTICS Spain, S.L. (HMS) is a biotechnology company focused on developing and obtaining new bioactive compounds from natural extracts, mainly cyanobacteria, microalgae and plants, with applications in the pharmaceutical, nutraceutical and cosmetic sectors. HMS, which is partly British-owned, was selected in the 2021 call for Foreign Company Investment in R&D Activities Programme launched by ICEX-Invest in Spain, co-financed by the European Regional Development Fund (ERDF). As a result, HMS received funding to develop its innovation project in Spain.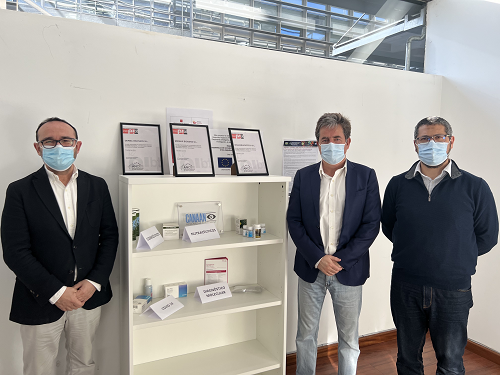 The extracts with which the company works, in particular microalgae and cyanobacteria, demonstrate massive potential, although they still need further research to determine the beneficial effects of their bioactive compounds on human health. HMS also works with extracts derived from olive trees, such as maslinic acid and hydroxytyrosol⁠. These compounds—produced industrially in recent times⁠—have a positive impact on cardiovascular and intestinal health, among others. 
The company focuses on the market of bioactive compounds derived from natural sources in an effort to obtain and develop new nutraceutical, cosmetic or biopharmaceutical compounds. HMS aims to develop a library of bioactive compounds and extracts from cyanobacterial and microalgal biomass. To do this, HMS carries out a continuous screening process of natural extracts to identify activities of biotechnological interest in the nutraceutical, pharmaceutical and cosmetic sectors. Bioactive extracts and compounds will undergo innovation in the form of patents and licences.
Why did you initially choose the Canary Islands to carry out your activity?
Basically because we have been working for more than 15 years with the Spanish Bank of Algae, located on the island of Gran Canaria. There we collaborate with different joint research and development centres to obtain nutraceuticals derived from microalgae and cyanobacteria. These centres include the BEA, the University of Las Palmas and the Canary Islands Technological Institute (ITC), among others, and they operate within the framework of a European project called the "Network of excellence in blue biotechnology (algae) of the Macaronesian region" (REBECA - "Red de Excelencia en Biotecnología Azul (Algas) de la Región Macaronésica"). This partnership has existed for years, and thanks to the collaborative links created, we are able to implement all the phases involved in the conservation, isolation, growth and extraction of the active principles in these microalgae or cyanobacteria. A large part of the cyanobacteria collection at the Spanish Bank of Algae has been donated by HEALTH MICROBIOTICS, which also transferred the know-how for these extractions.
As living beings, both cyanobacteria and microalgae are difficult to maintain, isolate, cultivate and grow while maintaining the bioactivity tract, because when interacting with light or culture media, you have to know how to standardise it all. This was the main reason for working with the Spanish Bank of Algae.
The large collection available in the Canary Islands allows us to have a wide range of bioactive compounds to screen and thus identify the microalgae and cyans in the respective activity. By using these processes, we can identify target compounds to tackle different diseases, such as breast, lung or pancreatic cancer.
What facilities do you have at present? How many jobs have been created thanks to the financial support provided by ICEX?
Offices have been opened in the science park located in Tafira, Las Palmas, where the work base is up and running. A new Marketing Manager has also been recruited to sell products that have already been launched on the market by using advertising and sales tools. Elsewhere, another job in science and business development has been created.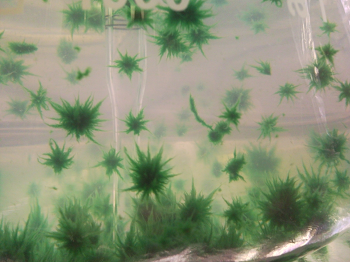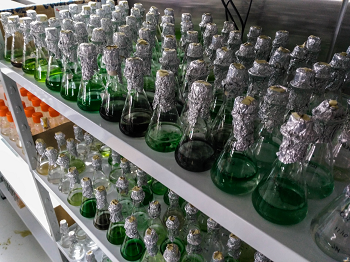 HEALTH MICROBIOTICS is committed to improving the quality of society.
By working with active ingredients and using novel methodology, vehiculation, scientific support and clinical validation, we are able to produce and bring nutraceuticals or functional food compounds to market. These do not have harmful effects on society and are sustainable and environmentally friendly. 
We work with compounds that are already part of our diet, boosting the bioactive potential through new formulations that increase public health benefits, and without the potential side effects of a drug.
What did the ICEX funding mean for the project?
The funding received from ICEX, plus the company's contribution, has given a financial boost to the R&D areas, which does in turn free up other funding entering the company to develop the commercial areas. This means all areas will be able to close agreements and allow increase their turnover in the coming years. 
What are the company's plans for the future?
On the one hand, we will continue to develop new nutraceuticals and validations of these new nutraceuticals, as well as reinforcing validations of existing nutraceuticals in diseases where they have been shown to have an effect or by opening up a range of new diseases. 
On the other hand, we will begin closing new commercial and development agreements at a business level, so that all products placed on the market enter the pharmacy and parapharmacy circuit through collaboration agreements with pharmaceutical cooperatives that will take this range of nutraceutical products.
Photos: HEALTH MICROBIOTICS