Hutchison Ports has already invested over 600 million euros in the BEST terminal in the port of Barcelona
Hutchison Ports BEST is a subsidiary of the CK Hutchison group, a conglomerate listed on the Hong Kong stock exchange and operating several businesses ranging from retail to mobile telephony and infrastructure. In ports, it is a world leader, operating 52 ports in 25 countries.
In 2022, the Hutchison Ports group operated almost 85 million TEUs (twenty-foot containers), equivalent to 10% of global container traffic. Since 2006, the company has developed the BEST terminal in Barcelona, today one of the most technologically advanced and productive terminals in Europe.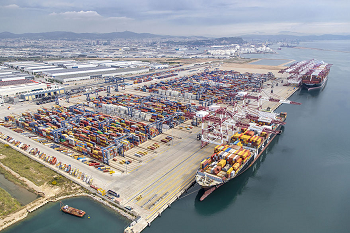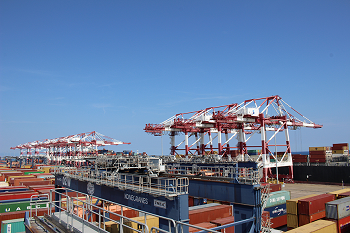 You came to Spain in 2006 with a firm commitment to the port of Barcelona. What attracted you to this infrastructure?
Firstly, Hutchisons vision in Barcelona was in line with the strategic plan of the port of Barcelona. Developing a semi-automated terminal in southern Europe was a challenge, but the cooperation, dialogue and shared vision of the main players involved has enabled BEST to become one of the most efficient terminals in the world. Barcelona is also highly attractive as a port thanks to its balance between exports and imports, but above all as it is surrounded by Catalonia and other regions with important industrial sectors, which is an opportunity to become the gateway to southern Europe.
What major investments have been made since then?
Hutchison has proven that its commitment to Barcelona is strong. To date, investment by the Hutchison Ports Group in BEST is the largest private investment in the history of Spanish ports, now exceeding 600 million euros. We are currently starting to develop a new expansion phase that will allow us to increase our capacity by a further 25%.
How has the workforce evolved in Spain?
Hutchison Ports arrived in Spain through a partnership with the Mestre Group, which contributed its vast experience in the maritime business and also its high-level professionals. With this workforce as the basis and with the know-how of Hutchison Ports, we completed the TOS (Terminal Operating System), the heart of the terminal, from the design to the development. It is important to emphasise that this is an automation project that requires many processes and tasks completed with innovative technology solutions. This in turn requires highly qualified and trained staff. Furthermore, with respect to machinery, we changed from a mechanical to an electronic model, another challenge in terms of our employee profiles. Despite this, not only have we maintained jobs, but we have created new positions with higher technology profiles, the first jobs for many young people in our area once they have completed their studies.
Do you have other infrastructure in Spain?
BEST is Hutchison's main investment and all our efforts are aimed at generating volume for the terminal. Clear examples of this commitment include our investments in the Noáin rail terminal in Navarra and in the Zaragoza maritime terminal (TMZ). Another similar initiative was the creation of Synergy, our rail operator, which aims to open new rail corridors to attract cargo to Barcelona, offering value to exporters and importers from several autonomous regions throughout Spain.
How important is Spain in the Hutchison Group strategy?
The Mediterranean Sea in general, and Spain in particular, are strategic for Hutchison. For centuries, many of the ships passing through the Mediterranean would load and unload goods at ports in northern Europe for part of the cargo to then be trucked down to the peninsula. Hutchison's goal in the Mediterranean was to foster a change in this dynamic. By building such a technologically advanced container terminal we can achieve productivity ratios that are unique in the world, and which, together with the expansion of the hinterland and the establishment of new distribution centres, can lead to Barcelona becoming the gateway to various Spanish regions and, in the near future, also to Southern Europe.
The BEST terminal has become an international benchmark for its semi-automatic system and for being the most sustainable terminal in the Mediterranean. What is this differentiation based on?
In late 2021, BEST received the AFLAS award in Hong Kong for the best European container terminal. The most significant aspect of this award is that we were chosen as the best terminal by regular users of different terminals worldwide (shipping companies, freight forwarders, logistics operators, etc.). Our strategic position is based on differentiating ourselves through efficiency, service quality and by becoming a strategic asset for our customers. We have reduced dock operating times, as well as container delivery and reception times, and we have promoted the use of rail as a real alternative to road transport. Moreover, we have improved import and export transit times, making the Spanish economy more competitive. All this while minimising the environmental impact of our operations, reducing carbon emissions by 65% by purchasing energy from 100% renewable sources, among many other actions.
What is your customer profile?
We have a broad approach in terms of customers. We don't only see customers as those who decide where to dock their ships, but we also see carriers, freight forwarders and, of course, end users as our clients. In this sense, BEST is not only one of the most efficient terminals in the operation of ships, but also in the time it takes to receive and deliver containers to carriers. Each day we receive between 2,000 and 3,000 lorries. We also listen to the end customer —exporters and importers— to create solutions that meet their needs and maximise their competitiveness.
What short- and medium-term projects and investments are planned?
Hutchison Ports BEST will continue to develop the new expansion phase I mentioned earlier. The terminal must keep pace with the growth in ship sizes with increasingly larger cranes and this involves higher levels of investment to remain competitive. We will also continue to expand our hinterland through new corridors, particularly focusing our efforts on the South of France. In our day-to-day, we are working to complete the digitalisation process and become a 100% digitalised company, and we continue to automate processes by relocating our employees to tasks with greater added value. We must increase our efforts in creating tools to provide key, timely information to our customers so as to add value to their decision-making. In short, we will continue to evolve through innovation and continuous improvement.
Photos: Hutchison Ports