Matrix Renewables has invested 500 million euros in its projects in Spain
Matrix Renewables is a global renewable energy platform created and backed by the global alternative asset manager, TPG, and its impact investing platform, TPG Rise. Matrix Renewables' current portfolio comprises 14.4 GW of renewable energy, storage and green hydrogen projects across Europe, the US and Latin America.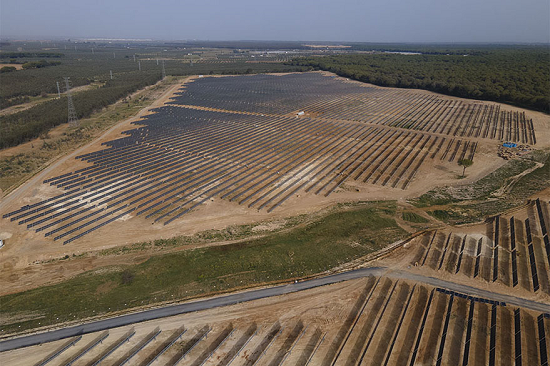 They all have Spanish DNA and the financial backing of the US fund TPG. What role are the funds playing in the development of renewable energy in Spain?
Many of the companies investing in renewable energy in Spain are investment funds. These firms channel foreign capital and invest in our country with the aim of promoting the deployment of renewable energy. To ensure their continued commitment to investing in Spain, we simply need to provide a stable regulatory framework, which together with four key inherent advantages that Spain has to offer - a large quantity of renewable resources, being part of the Eurozone, high market liquidity with an appetite for major energy-consuming companies and available bank financing - will make our country a stable, long-term proposition.
What has TPG's backing meant for Matrix Renewables' development?
TPG Rise is TPG's global impact investing platform. It is the world's largest private market impact investing platform, committed to achieving positive, measurable social and environmental outcomes, coupled with competitive financial returns. With these commitments in mind, TPG created the platform from scratch in Spain rather than acquiring an existing platform. Madrid was the location chosen, due to the domestic renewable energy market and the availability of a pool of talent with international experience in Spain.
You have already launched several investment operations over the past few years. What assets does the company already have in Spain?
In Spain, Matrix Renewables has two large plants in operation in Andalusia, one in Jaén (50 megawatt-peak) and another in Huelva (129 MWp), as well as approximately 150 MWp of capacity currently under construction and spread across three plants in Seville and Palencia. In addition, we plan to start working on the construction of another 250 MWp in four plants by the end of 2023.
What kind of investment have you made in these assets, and how many jobs have they provided in Spain?
Investment in the above-mentioned projects is estimated at more than 500 million euros, and construction has involved the creation of around 2,500 jobs.
You have just secured financing for a new solar project in Seville. What are the numbers for this project?
The photovoltaic solar plant in Seville will have a capacity of 50 MWp and will create 250 jobs. It is estimated that the plant will produce clean energy equivalent to the power required to cover the supply of approximately 29,500 homes per year, while avoiding 34,900 tonnes of carbon dioxide emissions each year. The non-recourse financing, which will be provided by Banco Sabadell, totals 47 million euros.
Do you have any new investments planned in Spain? What sort of portfolio is Matrix Renewables ultimately aiming for?
Spain is currently the company's largest market. Even so, our intention is to continue growing, both in Spain and in other markets where we have a presence. Matrix will continue its commitment to the development of more projects that promote renewable energy production. We do in particular plan to announce the construction of another 250 megawatts across four plants by the end of 2023, and a further 350 megawatts over the course of 2024. In addition to solar energy, we will have a portfolio of more than 500 megawatts of storage projects in Spain by 2024.
You don't just have photovoltaic and wind power. Is diversification part of your strategy?
This year we launched the green hydrogen project initiative in Spain via the new Hyren platform. The platform has 1,500 megawatts of identified projects in industrialised coastal regions. As well as this initiative, efforts are being made to develop storage projects that will serve to strengthen the transmission and distribution networks.
The renewables sector is very mobile, with a great deal of movement among projects at different stages. Where does Matrix stand in the business?
At Matrix, our mission is to own and operate the renewable energy assets we develop. That said, and recognising that these projects must have a minimum return, Matrix is already active in the entire value chain of renewable energy project development. Apart from certain project acquisitions dating from the early phase of the company, Matrix is currently developing greenfield projects, i.e., projects developed by Matrix internally right from the beginning, as well as participating in co-developments with other companies with a view to obtaining synergies throughout project development.
You are present in other countries. How important is Spain for the company's strategy?
Spain is our main market, together with the United States. At the moment we have projects with a total capacity of 5,000 megawatts in the various photovoltaic, storage and green hydrogen technologies. We want Spain to continue to be a preferred market for Matrix, which is why we have set ourselves the target of reaching 1,800 megawatts of installed capacity plus 6,000 megawatts under development by 2027.
Photos: Matrix Renewables