SDG Group has more than 1,300 employees in Spain and plans to add five hundred more by 2024
SDG is a consultancy firm based in Milan (Italy) that is specialised in data analysis and artificial intelligence). Founded in 1994, it is a pioneer in the world of data, where it has gained extensive experience and sustained growth "well above our own market, according to its director in Spain, Albert Mas.
With customers in more than twenty countries and over thirty years of experience, SDG Group has established itself as a specialist provider and expert in analytics and data strategy implementation processes, backed by market analysts such as Gartner, Analytics Insights and Penteo.
One of its most important features is its strong roots in Spain, where it has just opened its fifth office and where more than half of its employees work. Its goal is to become a global leader in the data and AI industry. To achieve this, says Mas, "we are particularly focused on our investments in talent and innovation".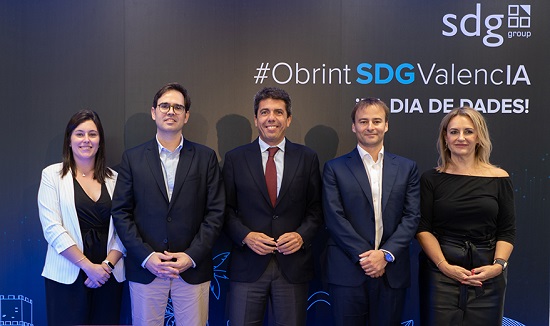 How and when did SDG Group arrive in Spain?

SDG Group has been operating in Spain since 1999 and, thanks to significant expansion over the years, we currently have offices in Barcelona, Madrid, Logroño, Santiago de Compostela and Valencia, as well as professionals throughout the country. We have more than 1,300 talented employees in Spain and more than 2,000 worldwide, dedicated to data, analytics and AI services, and with an annual turnover of around 100 million euros. Our customers include more than half of the Ibex-35 companies.
What is Spain's role in the company strategy?
We have been the country with the largest deployment for years, with a leading position in the national market, and we are also a key country in the expansion of SDG Group internationally. We are also a key country in the company's value proposition and innovation.
And you have just opened your fifth office.
Ever since its beginnings in the city of Barcelona at the end of 1999, and shortly after its establishment in Madrid, the company has been in a state of constant expansion, and in the last ten years we have seen an acceleration well above the growth seen in the market as a whole, between 30% and 40% per year. We are a company of people, so we are committed to talent, wherever it may be. Advances in digitalisation have allowed us to carry out these projects thanks to "smart work" and the preservation of a rich network of talent in our company, geographically distributed throughout Spain.
A year ago you surpassed a thousand employees in Spain and now have 120 at the new headquarters in Valencia. How has employment developed and where does it go from here?
We already have more than 1,300 employees in Spain and the forecast is to maintain this growth, with five hundred new employees by 2024. SDG Group's workforce is characterised by being highly-qualified and diverse, with more than thirty nationalities. The company has implemented a flexible, efficient and sustainable working model. Beyond volume and numbers, our proposal is to create high-quality jobs focused on medium and long-term career development, so that talent can develop in cutting-edge technology projects and in highly demanding corporate and international environments.
What have been your major investments?
SDG is a global boutique dedicated exclusively to business data analytics. To achieve this, we have four main forms of investment: talent, where we have a very strong life and professional development programme; expansion, in this case the opening of new offices; and academic collaboration with universities, etc. Also important is innovation, which accounts for up to 15% of our revenue and, of course, our customers.
What important projects have you developed in our country?
We are currently developing more than a thousand projects a year and all our customers are important. However, we could highlight the development of regulatory analysis for leading banks in Spain, which is carried out by SDG Group, or the support for strategic decision-making in a large part of the Ibex-35 and other large companies in Spain, among others.
What is your customer profile?
With a customer retention rate of over 95%, we have very loyal customers with whom we have built long-term relationships. Approximately 80% of our customers are large companies and global corporations, both national and international. We provide data analytics to major companies in the pharmaceutical, telecommunications, banking and insurance industries; the public sector; consumer goods companies and major retailers; the manufacturing and automotive industries; airlines, entertainment and travel companies; fashion and luxury brands; football clubs; logistics and distribution companies; the energy industry; and many others. The data industry spans all sectors and economic actors, whether they be public, private or in the social economy. We also work very actively with organisations such as the Red Cross, the Bill & Melinda Gates Foundation, Caritas International, Médecins Sans Frontières and the Vicente Ferrer Foundation.
What are your next challenges?
The main one: talent. The lack of available talent is one of the challenges facing the entire industry, and the exponential development of AI, in which we are well positioned, will exacerbate this talent shortage. Our business model is focused on attracting the best professionals and offering them a dynamic and challenging work environment where they can grow and develop their full potential at an accelerated pace.
Photos: SDG Group