Biome Makers closes a round of 4 million dollars to expand its ecological computation technology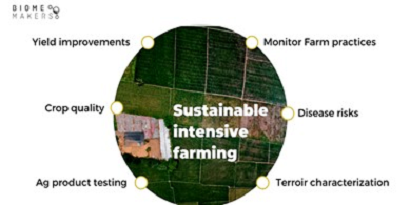 28 August 2019
The company, which originated in the U.S. and is based in Spain, was selected in the first edition of Invest in Spain's Rising up in Spain program
Biome Makers, a technology company that uses artificial intelligence to analyze the Earth's ecosystem and thus improve sustainable food production, has closed a funding round of 4 million dollars co-led by the venture capital companies Seaya Ventures and JME Ventures, with participation from LocalGlobe.
The company, which originated in the U.S. and is based in Spain, was selected in the first edition of Invest in Spain's Rising up in Spain program. 

According to its managers, Biome Makers will use the funding to continue expanding its technology across different areas (USA, Europe, Latin America) and crop types, and to develop new proposals, including a system to assess the impact of agricultural products.

The company is the brainchild of Adrián Ferrero (CEO) and Alberto Acedo (CSO), two entrepreneurs with a solid scientific background from the Spanish region of León who had previously founded their first startup in the human genetic sector. This is the company's second funding round, as it earlier raised 2 million dollars from international investment groups, including Illumina, the world's leading manufacturer of DNA sequencing instruments.

According to Adrián Ferrero: "oil is the most valuable asset to support life on earth, but we don't really know how to keep it healthy and global food production suffers as a result. We have developed a pioneer technology platform based on DNA sequencing, network-based data analytics and artificial intelligence that allows us to see in the soil what others don't see: its bioactivity. There is a huge opportunity to improve the health and productivity levels of farms globally".

"Our vision is to build a global soil dataset that allows us to partner with the industry to support the development of new biological products for unsolved problems in agriculture", adds Adrián Ferrero.
Oscar Renteria, CEO of Renteria Vineyard Management, a leading vineyard management company supporting wineries established in the US and currently a Biome Makers customer, says: "Biome Makers has helped us check soil bioactivity, allowing us to optimize our farming practices and increase soil resilience".

Seaya Ventures is one of the leading venture capital funds in Spain and Latin America, with 160 million euros under management and a portfolio of over 20 companies, including Cabify, Glovo and Spotahome.

"Biome Makers have pioneered the development of a technological solution that not only helps farmers manage their over 60 billion dollars spending on agricultural products and maximize their yields, but also enables a more sustainable food production value chain. Due to modern agricultural practices, we have lost nearly one third of fertile soil per capita in the last 40 years globally and Adrián, Alberto and the team have discovered a way to reverse this trend", says Aris Xenofontos of Seaya Ventures.