Pistelli will build a new factory in Soria province
23 November 2020
It is investing 1.5 million euros in this plant, which will employ 31 people when fully operational 
The Brazilian engineering company Pistelli has acquired two 10,900-meter plots in the La Dehesa business park in Almazán (Soria) for 305,000 euros plus VAT. It is here that it has chosen to build its new factory, in which it will invest 1.5 million euros. Over the next five years, it will gradually add new employees until it reaches a total of 31.
The Federation of Sorian Business Organizations (FOES) announced Pistelli's arrival. Santiago Aparicio, its chairman, said: "Being able to announce investment projects which will create jobs and wealth in the province from day one is something we should feel very proud about, particularly against the background of this pandemic. We will see the benefits right away through the building of the plant and the payment of municipal taxes".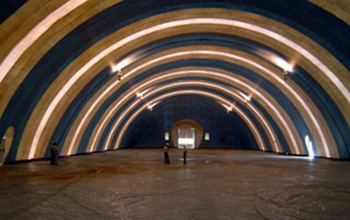 Expansion plans
Pistelli Ingeniera has designed, produced and marketed inflatable structures, structured warehouses and tensioned roofs, both for sale and for rent, for more than 30 years. According to the project presented to FOES, Almazán is "a privileged and perfect location for Pistelli's expansion plans in Spain and Europe."
From here, the company will be able to reach the northern market of Spain, and through it, Europe, and the Duero corridor that links it to Portugal, one of its core markets. The Almazán plant will also allow it to increase its presence in North Africa and Arab countries, and will serve as a natural communication route between Barcelona, Valencia and Porto "on a magnificent east-west axis".
The best place to invest
The Invest in Soria business development platform, led by FOES since it was created in November 2017, has been liaising with the Brazilian-Portuguese group (based in Brazil) for the last five months to "make them see that Soria is the best place to invest" (as Aparicio puts it). Over this period, "we accompanied them to various locations in the province, familiarized them with different parts of Spanish law (labor, finance, taxation, etc.), and guided them through the entire process of setting up their company in Spain."
The mayor of Almazán, Jesús Cedazo, says: "Soria has a province-wide business lobbying program, and all the administrations need to look after it because it works extremely well." He says Pistelli may have been drawn to Almazán because of the excellent services in the business park, following a ten-year investment plan, with a total of 90,000 square meters available that can be expanded by another 150,000.
Auxiliary companies
FOES has committed to keep supporting Pistelli Engineering in managing subsidies, talent hunting, legal, labor and fiscal advice during the implementation and execution of the project. He also thanked the Almazán town hall for its valuable input.
On top of the 31 direct jobs, there will be other indirect ones, according to the mayor, because "this company is capable of providing jobs to many auxiliary companies in Soria."