Beiersdorf inaugurates Nivea factory extension in Madrid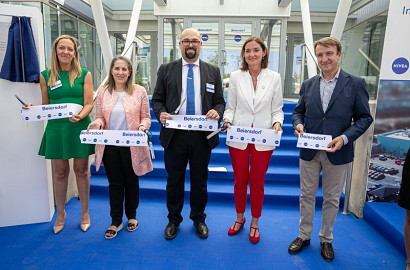 14 July 2022
It has invested 45 million euros in the Tres Cantos facilities to increase production by 74%
The Beiersdorf Manufacturing Tres Cantos (BMTC) production centre in Madrid celebrated its inauguration in the first week of July, after undergoing expansion work aimed at boosting its production capacity and adapting to current sustainability standards.
The German company has invested 45 million euros in the expansion of the Madrid plant. In addition to adding 12,000 square metres to increase the total floor area to 40,000 square metres, the work has focused on the digitalisation, automation and sustainability of the facilities.
Production increase
The new plant will expand production by 74% compared to its previous facilities. Thanks to the new emulsification and packaging lines that have been put into operation, the factory will produce 400 million units of Nivea products per year.
As for sustainability, the work has been planned according to LEED standards. This international label specialises in the planning of buildings by means of resources such as the use of high-efficiency equipment, natural lighting, the optimisation of water use and the production of energy for self-consumption from renewable sources such as photovoltaic panels.
Factory of the year
Months before the plant expansion began, in March of this year, the BMTC was recognised with one of the factory of the year awards by the consulting firm AT Kearney. Specifically, the category for excellent production site transformation rewarded improvements that also included a number of measures aimed at boosting digitalisation of the production process. It is the only Spanish factory to receive an award in this edition.
The inauguration, which included a guided tour of the facilities, was attended by institutional representatives such as the Minister for Industry, Trade and Tourism, Reyes Maroto, the Mayor of Tres Cantos, Jesús Moreno García, and the Director General of Economic and Industrial Promotion for the Region of Madrid, Mar Paños. Accompanying them were Beiersdorf's European Head of Manufacturing, Sebastian Marchante, and the company's Country Manager for Spain and Portugal, Ana María Morales Schmid.
Photo: Beiersdorf