Cisco to design next-generation semiconductors in Barcelona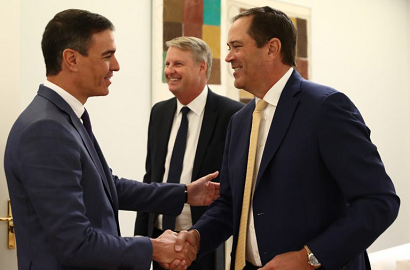 16 November 2022
It will be the US company's first centre of its kind in the European Union
Cisco has announced a project to create a next-generation semiconductor design centre in Spain, paving the way for its participation in the Strategic Project for the Recovery and Economic Transformation of Microelectronics and Semiconductors, known as the PERTE for microchips. This was announced by the President and CEO of the US company, Chuck Robbins, after his meeting with Spanish Prime Minister Pedro Sánchez.
In today's era of digital transformation, Cisco argues that there is no digitisation without chips. Hence the PERTE initiative, which does in turn respond to the EU Chips Act, the plan put forward by the European Union in 2021 to strengthen the continent's competitiveness and resilience in semiconductor technologies and applications.

Innovation, jobs and growth
Cisco's goal is to launch an engineering centre where it will design and prototype next-generation semiconductor devices. The initiative is part of its strategy to facilitate a reliable, scalable and sustainable global semiconductor supply chain. It will also contribute to promoting innovation, job creation and economic growth.
The new design centre will be located at Cisco's Innovation Centre in Barcelona and will be the first of its kind to be set up by the company in the European Union. Committed to entrepreneurship and innovation, the multinational is also investing in developing other technologies that contribute to green and digital transformation, such as 5G/Wi-Fi 6, IoT, artificial intelligence, cloud and next-generation networks.

Harnessing talent
For Chuck Robbins, the creation of the new design centre "reinforces Cisco's commitment to supporting the digital ecosystem in Spain and across Europe". Cisco's President added, "Semiconductors are essential for innovation, and our advances in this field are helping to overcome the performance, economic and power consumption limitations of today's infrastructure. Cisco is delighted to take an active role in addressing semiconductor supply by developing this design centre, and we're also excited to be able to tap into talent around the world and really help build the internet of the future."

Pedro Sánchez, for his part, explained that the commitment of companies like Cisco "will help to strengthen Spain's innovation ecosystem and will be at the forefront of technological, industrial and social progress", and said that Spain "is becoming a key player in achieving the EU's goal of reaching 20% of the global chip market by 2030". "We have approved the PERTE for microchips, and we have the roadmap, reforms and incentives to attract talent and consolidate the current Spanish ecosystem", added Sánchez.

Photo: Cisco