Envision Group to lead development of battery gigafactory in Extremadura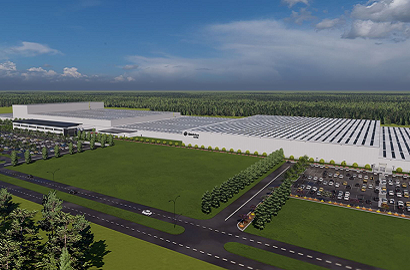 20 June 2022
The consortium will invest one billion euros and create 3,000 jobs from 2025
The Envision Group has presented plans for the production of electric vehicle batteries, and for which it has applied for funding from the Strategic Projects for Economic Recovery and Transformation for Electric and Connected Vehicles (PERTE VEC). The Chinese company heads a consortium of twelve companies which will be established in nine autonomous communities.
Extremadura will however be the nerve centre of the Venergy+ project. Envision will construct a battery gigafactory in Navalmoral de la Mata (Cáceres). The decision was made after several months of negotiations with the Spanish Government and with the support of the Regional Government of Extremadura, which has provided 200 hectares of land for development.

Promoting electric mobility
Venergy+ is not just a battery manufacturing project. Its aim is to generate an integrated ecosystem for promoting electric mobility. As well as the Asian company, which has ten battery factories in Japan, the US, the United Kingdom, China and France, the role of Acciona stands out among its partners, being responsible for the solar power plant that will be built alongside the gigafatory to supply clean energy.

The twelve partners will launch sixteen primary projects in total, ranging from battery production and renewable energy supply to the development of digital solutions. Together with the Envision Group, Venergy+ is made up of Acciona Generación Renovables, Acciona Silence, Teknia, the Galicia Automotive Technology Centre (CTAG), Aresar, Liux, Qalma, Glavista, Cable Energía and Kapture.IO.

Zero emission factory
The planned investment to launch Venergy+ is one billion euros. The star of the project is the construction of the battery gigafactory at Navalmoral de la Mata, which involves an investment of 900 million euros, and creating employment for around 3,000 people from 2025. This will be a zero emission factory because it will be powered by the on-site solar power plant to be installed by Acciona in three phases of 10 GW each, until reaching its planned target of 30 GW by 2030.

The cells, modules and high-performance battery packs produced at this gigafactory will be integrated into the different electrical platforms by using a removable battery system and adapted to models ranging from vans and heavy trucks to a new electric vehicle for last mile delivery, three modular electric vehicles and a light, electric two-wheel vehicle.

R&D collaboration
As well as promoting decarbonisation, this project contributes to the industrial renewal of the automotive sector in Spain, Europe's second largest vehicle producer. It also encourages collaborative R&D across the entire battery life cycle, from storage to reuse, with smart charging and closed loop recycling.

According to the president of the Envision Group in Spain, José Domínguez Abascal, "Envision is very grateful to the Government of Spain and the Regional Government of Extremadura for the level of support they have shown to get us to this important point. We welcome this enduring strategic partnership and our shared ambition and cooperation, which will continue as we develop this and other projects together."

Thousands of green jobs
Regarding the establishment of the consortium, Domínguez Abascal explained, "We are connecting large traditional companies with SMEs and start-ups, each of which make a unique contribution to the decarbonisation, growth and renewal of Spain and generate thousands of high-value green jobs for the future."

Photo: Envision Group