Government regulates subsidies for electric and connected vehicles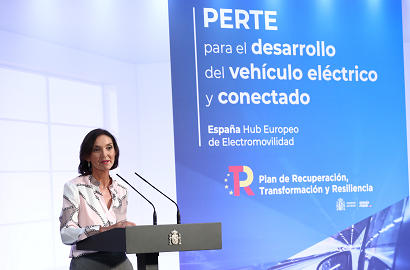 10 January 2022
The PERTE will distribute €2.975 billion and plans to raise a further €11.9 billion from private investment
The Government has approved regulations governing industrial sector subsidies  in the Strategic Project for Economic Recovery and Transformation of Electric and Connected Vehicles (PERTE_VEC), which will be partly financed with Next Generation EU funds. This structure will enable distribution of €2.975 billion up to 2023, which will be divided into €1.425 billion by way of loans and €1.55 billion by way of subsidies. Furthermore, it is expected that €11.9 billion will be raised from private investment to supplement these sums. The deadline for completion of the projects selected  will be 30 September 2025.
According to the Minister for Industry, Trade and Tourism, Reyes Maroto, this step "is going to make it possible to increase  public subsidies for approved projects. This is something that will help attract investment  in Spain and reinforce the entire Spanish automotive ecosystem in carrying out new activities based on the industrial value chain for electric connected vehicles, thus making Spain the European leader in electromobility."

Competitive procedure
Approval of the set of regulations governing this PERTE, which is the first one submitted by the Government, has been made possible after their approval by the Government's Select Committee for Economic Affairs and authorisation from the European Commission. The next step will be to publish the call for tenders that will set the deadlines for projects to be submitted, and which will be selected and awarded by competitive tender.

The candidates must submit their proposals in the form of groups of companies without any legal personality. Their members, who must sign an internal agreement prior to submitting the application, must be a minimum of five public or private legal persons who are legally incorporated in Spain and do not belong to the same corporate group. All of them must be organised within the industrial automotive industry, and at least 40% must be SMEs. Furthermore, at least one must be a motor vehicle manufacturer and another must be a motor vehicle parts, spares and accessories manufacturer.

Amongst the regulations approved, it should also be mentioned that each overall group must be established in at least two autonomous communities. Moreover, one of the members must have sufficient ability to take responsibility for the RDI activities in their project.

Project content
The projects should encompass proposals addressing original equipment manufacturing (OEM) and assembly, the manufacture of hydrogen batteries or cells, or other essential components adapted to electric and connected vehicles. Apart from one of these three areas, they should include one of the so-called add-ons (manufacture of smart vehicle components, electric vehicle connectivity and manufacture of charging systems) or transversal areas (the circular economy, digitisation and professional training and recycling).

The PERTE_VEC subsidies will be complemented with funding in Plan Moves, the Moves Programme for one-off Projects and the CDTI technology programme for sustainable mobility, amounting to up to €4.3 billion.

Photo: Minister for Industry, Trade and Tourism