Student housing investment set to recover in 2022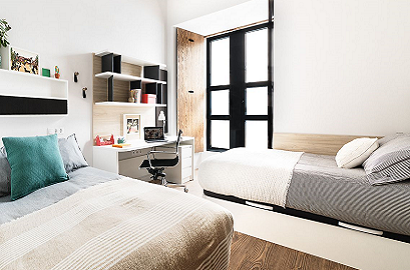 10 January 2022
In 2021 it reached 500 million euros in Spain, where 60 projects are in development
The pandemic will be history in 2022, at least as far as investment in student housing in Europe is concerned. This is according to the report prepared by Savills Aguirre Newman on this housing sector segment, one of those that were attracting the largest investments prior to the appearance of Covid 19.
The volume invested across the continent in 2021 reached 8.4 billion euros, according to the consultancy, which predicts a figure of around 9.5 billion euros for the current financial year, which would equal the record achieved in 2019. This increase will occur mainly in cross-border transactions, and will be accompanied by the entry of new investors in this market.

Increased profitability
Another report, in this case by the property consultant JLL, values investment in student housing in Spain at 500 million euros in 2021. This figure represents a growth of 82% compared to 2020, excluding transactions of less than five million euros, and land, development and corporate transactions. According to a previous study, investment was around 140 million euros in the first half of the year, an increase of 137% compared to the same period in the previous year.

For JLL, this segment is one of the most profitable in the property sector, although  increased interest from investors is squeezing profitability to 4.5% in Madrid and Barcelona, and 5.25% nationally. According to data published in its October report, there are currently 60 projects in development that will put 20,802 new beds on the market between 2021 and 2023.
Growing demand
The rapid growth in the number of students is an incentive for investment, as it is accompanied by an increased demand for accommodation. The Savills Aguirre Newman report estimates that this demand will grow over the next five years, especially in the main Spanish and Italian university cities. The number of students between 2020 and 2021 grew by 2.4% in the countries analysed, compared to a decline of 1.2% during the 2018-2019 and 2019-2020 academic years.

As the report indicates, citing data from Oxford Economics, the volume of young people aged 20 to29 in Europe's major university cities began to stabilise in 2017 after a decade of decline. In those cities with a limited supply of accommodation, prices may rise due to the planned expansion. At present, occupancy has recovered to its pre-pandemic level and already exceeds 90%.

Photo: Nexo Residencias