The Spanish Prime Minister and the Renault CEO Luca de Meo discuss the challenges facing Spain's automotive industry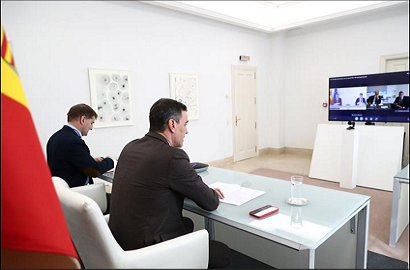 10 March 2023
The Spanish Prime Minister emphasised the fact that Spain offers exceptionally favourable conditions for accommodating the electric car value chain
From the Moncloa Palace, Spanish Prime Minister Pedro Sánchez met with the CEO of the Renault Group and President of the European Automobile Manufacturers' Association (ACEA), Luca de Meo, via video conference.
At the meeting, they discussed the challenges facing the sector in the current geopolitical context, future investments in Spain and the impact of the EU's Euro 7 emissions regulations, as well as other issues. The Spanish Prime Minister also stressed that support for the competitiveness of the industry will be one of the pillars of the upcoming Spanish Presidency of the EU during the second half of 2023.
Furthermore, Pedro Sánchez highlighted Spain's leadership in the automotive sector, stressing that the country offers extraordinarily beneficial conditions for accommodating the electric car value chain, including its attractiveness in terms of setting up microchip factories catering to this key sector. Through the Recovery, Transformation and Resilience Plan, the strategic plan for semiconductors, which is mobilising over 12 billion euros, offers excellent opportunities for an industry that has suffered from chip shortages caused by mismatches in production chains after the pandemic, and which even brought production to a standstill.
Source: Moncloa
Photo: Pool Moncloa/Jorge Villar
Read the full news article: https://www.lamoncloa.gob.es/presidente/actividades/Paginas/2023/070323-sanchez-consejero-delegado-renault.aspx