Zaragoza will be the exclusive manufacturer of the Opel Corsa
20 February 2018
In 2020, it will become the first factory to manufacture Opel's 100 % electric model in Europe
The next generation Opel Corsa will launch its production in 2019 and will be manufactured exclusively in Zaragoza, as announced by Michael Lohscheller, CEO of Opel. A year later, this factory will also be in charge of this model's electric version, a milestone that will convert it into the first factory to produce a 100%-electric Opel model in Europe.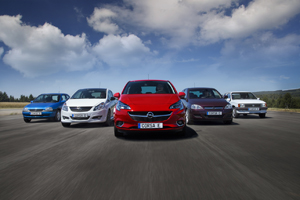 Lohscheller explained that this decision is "a decisive step forward for the factory in Zaragoza and represents the start of a new era". The decision as to Zaragoza arrives just two weeks after the company reached a new social framework with trade unions which, as the company explains, was an imperative requirement to guarantee the necessary investments. "This is a significant result and demonstrates the joint trust of all actors involved. Zaragoza will continue to play a first-class role in the implementation of Groupe PSA in Spain", adds Lohscheller.
The factory in Zaragoza started manufacturing the Opel Corsa in 1982, and since then has produced over ten million units of this model. In total, almost 13 million automobiles have been manufactured at these facilities, a figure which gives a notion of the importance of the Corsa for the capital of Aragon. To date, this plant also produces the Opel Mokka X, Opel Crossland X and Citroën C3 Aircross.
New work shifts at the Vigo factory
On another hand, Groupe PSA has decided to launch a new generation of automobiles in the leisure activity vehicle (LAV) segment, with three new models, differentiated by the four marketed brands: Peugeot, Citroën and Opel (Vauxhall in the United Kingdom). These vehicles' production will be distributed across the factories of Vigo and Mangualde, in Portugal, both having the group's best performance levels.
To satisfy the production demand, PSA will implement a fourth shift in Vigo and a third shift in Mangualde over upcoming months. Both have experimented profound transformations to take on these new models, which positions them in the era of factory 4.0.