The World Urban Car of the Year is manufactured in Navarra
13 April 2018
The latest-generation Volkswagen Polo was the most-voted model at New York's Auto Show
The state-of-the-art Volkswagen Polo, manufactured at a plant of the German company in Navarra, has been chosen World Urban Car of the Year at the New York Auto Show. These awards, with the participation of more than 80 journalists specialized in automobiles from 24 countries, highlight the best models among the new rollouts of the brands in several categories.
The Polo was finalist, together with another seven nominees, in the Urban Car category, for being a vehicle specially designed for use in high-traffic areas of major cities and metropolitan areas. The Head of Design at Volkswagen, Klaus Bischoff, points out: "The Polo is one of the world's most contemporary and successful cars, and the new generation presents a wide range of propulsion systems".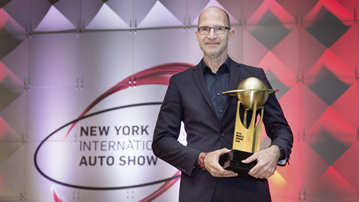 When receiving the trophy, Bischoff claimed: "We are proud of this award for the Polo, which over its history has exceeded 14 million units sold, making it one of the world's most successful small, compact vehicles. The model's sixth generation, launched in fall of 2017, is even more mature and sporty than the previous models".
In addition to several gasoline and diesel models, this model's newest generation offers a model driven by natural gas. Furthermore, it includes a wide range of driver assistance systems, both standard and optional, that improve the vehicle's active and passive safety.