The PSA group begins the serial production of the new Opel Corsa in Zaragoza
22 October 2019
In 2020 it will be the only carmaker to manufacture 100% electric vehicles in all its Spanish plants
The PSA group's Figueruelas plant in Zaragoza began production of the new Opel Corsa (the sixth generation of this model) on October 7. Aside from the commercial interest of this news is the major commitment made by the company to this plant, for which an investment plan of 250 million euros has been launched, lasting through 2021, to modernize the facilities and improve their competitiveness.
The event marking the start of production of the new Corsa was attended by King Felipe VI of Spain; politicians such as Reyes Maroto, the acting Minister for Industry, Trade and Tourism; Javier Lambán, the President of Aragon; and some of the most senior executives in the French group, headed by its Executive Chairman Carlos Tavares.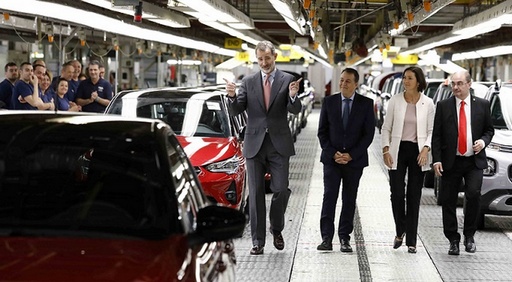 Multi-energy platform
One of the features of the assembly line that caught the attention of King Felipe was the new CMP multi-energy platform, prepared to manufacture 100% electric, gasoline and diesel vehicles on the same production line. This flexibility of the PSA plants will enable it to adapt to customer demands.
Tavares announced that his company would soon be prepared to manufacture 100% electric vehicles in its three Spanish plants: "The new Opel Corsa, which is starting manufacture in the Zaragoza plant, demonstrates that the group is prepared to deal with the challenges posed by the energy transition," he explained.
A model for electric vehicles
In the first eight months of 2019 a total of 336,420 vehicles of the Opel Corsa, Open Crossland X and Citroën C3 Aircross models have left the Figueruelas plant, 16.6% more than in the same period last year. According to the company, one in three cars manufactured in Spain today comes from one of its plants.
Starting in 2020, the group aims to become a model for 100% electric vehicles. With this in mind, it has made major investments in its facilities in Zaragoza, Vigo and Madrid, making it the only manufacturer to produce vehicles of this kind in all its Spanish plants next year. By 2025, it says that its whole range will have electronic versions.
In Figueruelas, the 2018-2021 investment plan also includes the incorporation of new industry 4.0 technologies and the increase of environmental, energy efficiency and R&D standards. To support this investment, the Regional Government of Aragon has contributed a subsidy off 4 million euros that will be used for high-efficiency cogeneration projects, the development of new processes for automated painting of interiors and other improvements.