Ionity opens its first ultra-fast charging facility in Spain
19 November 2019
Ionity opens its first ultra-fast charging facility in Spain
The high-power electric vehicle charging network Ionity has launched its first facility in Spain, in Pallejà in Barcelona. The company is a joint venture between the BMW, Daimler AG, Ford Motor Company groups and Volkswagen, which also participates through its brands Audi and Porsche.
The new facility is one of the fastest in Spain, and has four charging points with a capacity of 350 kilowatts each. It is also prepared to install another two ultra-fast chargers when the demand requires. Ionity's chargers use the European combined standard (CCS), and so are compatible with most electric vehicles.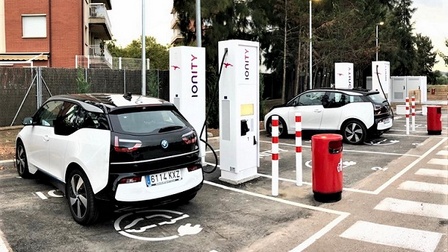 Reduction in charging times
The chargers installed by Ionity allow electric vehicle batteries to be charged significantly faster than current chargers. This is precisely one of the main demands made by automobile manufacturers and consumers to pave the way for the rollout of this type of vehicles.
The proposed electrification of Europe's automobile stock is based on the need for sustainability. And to silence the critical voices who still point to the sources of electrical energy supplied to these vehicles, the Pallejà plant will be run on 100% renewable energy provided by Cepsa.
Agreement for the supply of 100% renewable energy
This is the first collaboration between Ionity and Cepsa, and is part of an agreement signed by the two companies in July 2018. According to this agreement, Cepsa undertakes to install electrical charging points in its service stations in Spain and Portugal using a 100% energy supply from renewable sources. The initial target is for 100 service stations to be fitted with Ionity's chargers in two years. Cepsa has a network of almost 1,800 service stations in Spain and Portugal.
Headquartered in Munich (Germany), Ionity plans to build a high-powered charging network for electric vehicles along Europe's main freeways, and finally enable the possibility of making long-distance journeys using this sustainable transport mode. At the moment, its EUROP-E project has 340 charging points, which cover the main routes in 13 European Union member states, and the nine corridors in the trans-European (RTE-T) and the central networks.