Latin American investment in Spain has grown threefold in the last ten years
30 January 2020
This is one of the conclusions of the second Global LATAM report from ICEX-Invest in Spain, which this year has shone the spotlight on Brazil
Latin American FDI in Spain is 40.517 billion euros (rising to 57.209 billion euros if we include investments in holdings or Entities Holding Foreign Security (ETVE)), representing an increase of 200% in the last decade. As a result of this interest, the region as a whole is the fourth largest investor in Spain, behind only the United States, the United Kingdom and France.
This is one of the findings of the Global LATAM report compiled by ICEX-Invest in Spain with the support of the General Ibero-American Secretariat, which was presented this Thursday in Madrid. The aim of this annual report is to analyze the new trends in the internationalization of companies and Latin American capital. Each year one Latin American country is analyzed in greater depth, and in this second edition the focus is on Brazil.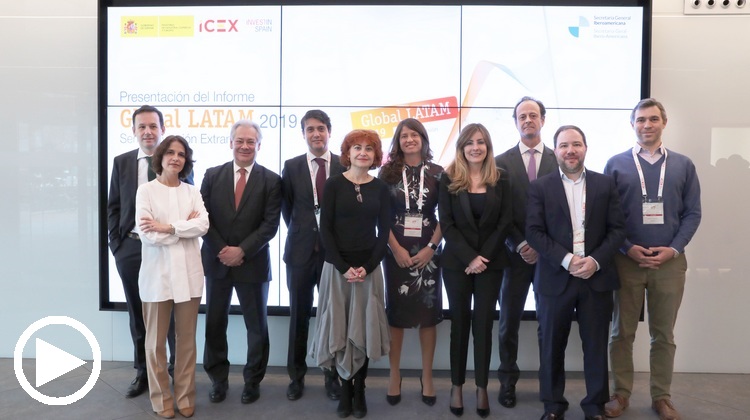 At the opening, María Peña, CEO of ICEX, said: "Latin American FDI abroad is currently at an all-time high in accumulated terms, at 655 billion dollars. Although there are distinct differences between countries, Latin American internationalization can today be said to be an increasingly consolidated phenomenon and an essential factor for understanding how the business fabric of the region has changed".

In addition to the shared historic and cultural ties between the members of the Ibero-American community, there are various reasons that explain the arrival of Latin capital in Spain. Spain is increasingly seen as a destination for long-term investment offering low investor risk and a very high macroeconomic stability. Its reputation as the fastest-growing economy of all the major European powers and the attractive price of its assets mean it has become a highly desirable destination for Latin investors in recent years.
 The report analyzes the main characteristics of Latin American investment in Spain. The number one investor is Mexico (26.408 billion euros), which is also the country with the greatest variety of different types of investors and of economic activities, including particularly branches of the services sectors such as technology, banking and consulting. Another point worth noting is the interest among Latin American investors in the Spanish holding regime (three of the five largest investors in this category are Latin American). Latin American investors have also been involved in 140 transactions for acquiring a stake in the equity of Spanish companies.
Latin American investment worldwide has stabilized at 38.255 billion dollars
The end of the recessive cycle and a onset of a new period of growth in Latin America improved the business outlook, and caused investment abroad to stabilize at 38.255 billion dollars in 2018, while the announcement of new investments was up 168% that same year. Latin America's current accumulated investment abroad is 654.785 billion dollars, and is headed by the two largest powers, Brazil (377.548 billion) and Mexico (228.501 billion). However, the two countries followed a divergent path in 2018: Brazil reduced its transactions whereas Mexico recovered its levels in previous years. Companies from other countries such as Colombia, Argentina and Central America also enjoyed notable growth in 2018, with very high levels of investment abroad, whereas in contrast the investment levels in Chile and Peru were more modest.
Sixty percent of Latin American foreign investment is intra-regional, and the top investment destination outside the region is the United States, and Spain in the case of Europe. It is worth mentioning the very low number of Latin American companies operating in Asian markets, and particularly in China. Public companies linked to raw materials and major family-run corporate groups continue to be the most internationalized in the region, as a result of their access to capital markets to fund their expansion. However, we are beginning to see the emergence of a different type of investor, led by service companies, investment funds and startups.
Global LATAM Foreign Investment Series
Global LATAM is an initiative by ICEX Spain Trade and Investment, a Spanish public entity whose mission is to promote the internationalization of Spanish companies and attract foreign investment, and is part of its objective of identifying and supporting Latin American companies interested in investing in Spain.
The project is supported by the General Ibero-American Secretariat (SEGIB), an international body dedicated to building and reinforcing economic and commercial links among the 22 countries in the Ibero-American community.
This second issue features the participation of the economist Miguel Pérez Ludeña, the Fundação Dom Cabral business school, and the Federação de Industrias do Estado de São Paulo (FIESP).

You can see the first edition of Global LATAM here, with a special feature on Mexico.