PSA reinforces its battery workshop in Vigo and recovers shifts in Zaragoza
06 November 2020
One hundred and sixty people now work at the Galician plant, where PSA has invested 7 million euros 
The battery workshop at the PSA site in Vigo continues to grow and is now assembling 300 units a day to equip the electric vehicles manufactured by the group in Spain: the Peugeot e-2008, Opel Corsa-e and Citroën C4. And as production grows, so does the workforce. On September 26, a fourth team of 40 people came on board to work weekend shifts.
A total of 160 employees now work in this workshop, which started operations in a preparation period in November 2019. It was launched in January with two teams, and gradually increased production, only stopping for the lockdown period (weeks) prompted by the COVID-19 health alert.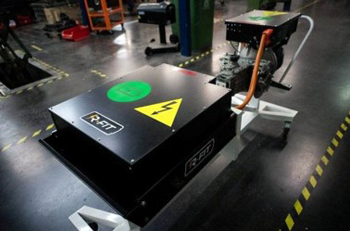 80,000 batteries a year
The PSA group has invested seven million euros in these facilities, and judging by their size and capacity, there is still plenty of room for a significant increase in the workforce. The workshop occupies 3,500 square meters distributed in the assembly, quality control and logistics areas, as well as a module preparation space. It is ready to assemble up to twelve batteries per hour, making a potential total of 80,000 units throughout the year.
In the future, the workshop will be able to supply batteries for upcoming electric versions of other models, as well as the three current models . These ion-lithium batteries have 50 kilowatts of power, equivalent to 67.98 hp, and weigh 350 kg.
"Our new battery workshop has given us a strategic production capacity to electrify our range of vehicles," said Ignacio Bueno, director of the Vigo center. We aim to take full advantage of the manufacturing potential of this new facility, and perhaps to increase it, to meet the growing demand for electric vehicles".
Production at the Zaragoza plant back to pre-COVID levels
Meanwhile, at the French group's plant in Zaragoza, the two night shift teams are back to work, restoring the full capacity of their two production lines, with 2,150 cars a day. The latest shift was added on 4 October: 700 employees to increase production of all versions of the Opel Corsa, producing up to 350 units per day.
The group has also launched a recruitment process to add a further 150 new employees to this shift. "Only a few months ago, we would not have thought we would be announcing that business is now back to normal in Zaragoza", says Juan Muñoz Codina, PSA's Industrial General Manager for Spain and Portugal.