AAM set to open a new factory in Viladecans
20 July 2018
The company will relocate the 170 employees from two other smaller plants and hire a further 40, according to the regional government
American Axle & Manufacturing (AAM), the manufacturer of vehicle transmission, steering and chassis systems, has begun the construction of a new factory in the town of Viladecans, near the city of Barcelona. The new plant will produce powertrain components with the aim of boosting the supply of these products to its current customers in Europe, such as Renault, BMW, Daimler, Porsche, Audi and Ford, as well as capturing new customers on the continent.
The 15,000-square-meter plant is expected to open in January 2019. Located in Viladecans, 20 kilometers to the south-west of Barcelona, it will consolidate two other smaller facilities in nearby Gavà, and absorb their 170 employees. Its larger size, designed to increase production, will also create a further 40 jobs (20% more), according to a communiqué issued by the Regional Government of Catalonia.
The Chairman and Chief Executive Officer of AAM, David C. Dauch, explained: "As AAM continues to diversify and expand our global customer base and product mix, our new Barcelona facility will be an integral part of our European manufacturing footprint."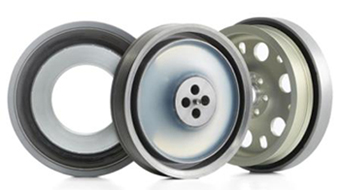 More effective products
With respect to the quality of its products, Dauch added: "The new facility will help AAM meet customer demand for products that help reduce noise and vibrations from downsized engines."
"The new Barcelona facility will allow AAM to rationalize and improve operations through a lean and efficient layout and production flow and to re-integrate the currently externalized warehouse," said Greg Deveson, President, AAM Powertrain.
"As automakers continue to downsize engines, especially with the increased number of hybrid applications, demand for products like damped gears isolation pulleys will increase. This new facility will help AAM continue to meet and exceed our customers' performance and quality expectations."
The Trade and Investment Agency of Catalonia, Incasòl and the urban consortium DeltaBCN have supported AAM in its extension plan.