ICEX-Invest in Spain receives the award as the best public institution in Startup Olé 2018
19 April 2018
During the closure of the contest that has taken place this Thursday.
Salamanca has celebrated between April 17-19 its fourth edition of Startup Olé, an event organized with the goal of promoting both entrepreneurial spirit and investment that has grown year after year, in this edition inaugurated by King Felipe VI.
The organization Start up Olé has acknowledged ICEX-Invest in Spain with the Startup Ole 2018 Recognition Awards as Best Public Institution. The bestowment of this recognition, as shown in the photograph, took place during the closing ceremony.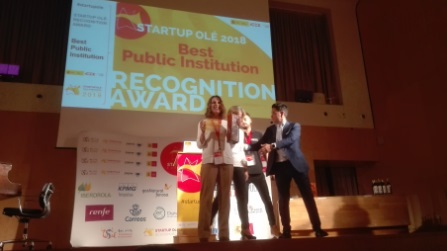 ICEX Invest in Spain, that has supported this event since its second edition, participated in two panel discussions: "How to Invest and Grow in the Iberian Peninsula" and "Consolidating Government Support for Start-ups". Likewise, it counted with its own stand and participated in bilateral meetings with investors, scheduled in advance.
The Director of "Startup Olé", professor Emilio Corchado, highlighted the interest sparked by this economic forum, which connects university talent with over 500 start-ups from around the world.
Together with the almost 500 emerging companies, he pointed out the participation of over 80 investors, 150 institutions and companies, over 30 universities and many incubators. The participating companies had the opportunity to contact with a group of investors with a cumulative history of €10 billion injected into different projects.
The event was organized by Bisite Accelerator, Welcomestartup.eu, Startup Europe (European Commission), University of Salamanca, University of Salamanca Science Park and University of Salamanca General Foundation.