Ford opts for hybrid models and batteries in Valencia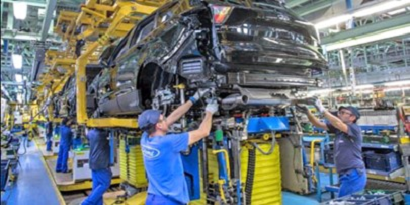 22 January 2020
 It invests 42 million in its Almussafes plant as part of the company's electrification strategy
Ford has announced that it will invest 42 million euros in its plant in Almussafes (Valencia) to create two new assembly lines for batteries for electrified vehicles, in addition to producing two new hybrid models. The Valencia-based factory thus joins the company's electrification strategy, in which it is planned to introduce 14 electrified models in Europe during this year.
The two new battery assembly lines will receive an investment of 24 million euros and be ready to come on line next September. Thanks to this infrastructure, the lithium-ion batteries will be assembled in the same plant that produces the vehicles that use them, thereby achieving greater manufacturing efficiency and sustainability. The models that will benefit from this initiative are the new Kuga Plug-In Hybrid, Kuga Hybrid, S-MAX Hybrid and Galaxy Hybrid.
Greater fuel efficiency
Although the Kuga, one of the brand's bestselling models in Europe, has been produced in this plant since 2012, the S-MAX Hybrid and the Galaxy Hybrid are the company's two newest offers, and will be officially presented early next year. Both vehicles have been designed to achieve improved fuel efficiency, lower CO2 emissions and greater refinement.
To undertake the production of these two new models, the US company will invest eight million euros in new tools and upgrades to its assembly line in Almussafes. The two hybrids will have an electrified powertrain which maintains the same interior space, comfort and flexibility of the brand's EcoBlue diesel engine. Both will be powered by a 2.5 litre Atkinson cycle gasoline engine, electric motor, and a generator with a lithium-ion battery.
Ten million euros for the new Kuga
The remaining ten million of the total 42 announced will go toward the production of the new Kuga Hybrid SUV. The Kuga, Ford's most electrified vehicle ever, has received an investment of 750 million euros since the company launched the plan to upgrade its Almussafes plant in 2011 in preparation for the production of this model. Since that date, three billion euros have been invested in the plant.
According to Stuart Rowley, president of Ford Europe: "With electrification fast becoming the mainstream, we are increasing our investment in Valencia to provide even more electrified models and powertrain options for our customers".