Some 93% of foreign companies plan to increase or maintain investment in Spain in 2022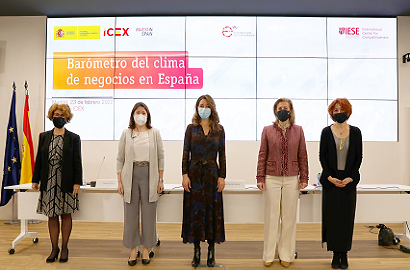 23 February 2022
Results of the 14th Business Climate Barometer, prepared by ICEX, Multinationals for the Spain Brand and the IESE business school
Some 93% of foreign companies present in Spain plan to increase or maintain their investment in the country in 2022. This is one of the main conclusions of the 14th edition of the "Spanish Business Climate Barometer survey of  foreign investors". Jointly published by ICEX-Invest in Spain, Multinationals for the Spain Brand and the International Centre for Competitiveness at the IESE Business School, it includes ratings and the importance attached to the business climate in Spain in the opinion of over 730 foreign companies.
For the Minister for Industry, Trade and Tourism, Reyes Maroto, "Spain is in a phase of full economic recovery, as confirmed by all indicators and the bright outlook for the future". According to Maroto, "foreign companies take a positive view of the fact that Spain is at the forefront of the European recovery fund rollout, having already received a first payout of 10 billion euros due to its high level of compliance with milestones and objectives".
On the results of the barometer, the minister highlighted that they reflect Spain being one of the countries that is "most open to foreign direct investment thanks to the certainties and security that we transmit to investors, and the structural and regulatory reforms that the Government is promoting, which will have a significant impact on improving the Spanish business climate". The minister also highlighted that results on issues such as sustainability, "indicate the awareness of consumers and Spanish society and, particularly, workers themselves on this matter".
The Barometer was presented at a conference attended by Xiana Méndez, Secretary of State for Commerce, Elisa García Grande, CEO of ICEX-Invest in Spain, Beatriz Blasco, President of Multinationals for the Spain Brand, María Coello de Portugal, associate director of the Madrid Campus, IESE Business School, and María Luisa Blázquez, associate researcher at the IESE Business School's International Centre for Competitiveness.
Xiana Méndez noted that the foreign sector is an undeniable driver for the economic recovery of our country. "International trade has been essential for our economy by providing our companies with alternative markets". It has additionally influenced the intense recovery of exports in 2021, which achieved historical figures: "Spanish exports of goods not only exceeded pre-pandemic levels, but set an annual historical high. It is the first time in history that Spanish exports have surpassed 300 billion euros". 
The responses given by the companies surveyed were collected during the final quarter of 2021 and also include their forecasts for this coming year, which allows the Spanish authorities to identify the strengths that must be maintained, as well as the main areas where greater effort is required.
The business climate improves on two points
In general terms, investment companies showed a clear improvement in their performance in 2021 and with very favourable prospects for 2022 in all aspects analysed (investment, workforce, turnover and exports). Business climate is rated 3 out of 5, which represents a 20% increase [UdW1] with respect to the previous edition. These results match those of 2019, before the pandemic, and show the recovery path of companies after the COVID-19 crisis. 
Foreign investors gave the highest ratings to Infrastructure and Quality of Life, – clear strengths of Spain – followed by Market Size and Human Capital. It is positive that, once again this year, the highest rated areas match the most important aspects for investors.
Among the lowest rated areas in this edition are those related to the regulatory environment, taxation and innovation. Particular room for improvement was witnessed in areas such as how labour legislation adapts to companies' needs and the reduction of red tape. Costs, such as electricity, have also been revealed as one of the main concerns this year.
Good prospects for the future
Investment trends maintained by foreign companies in Spain in 2021 demonstrate a clear recovery compared to 2020. Thus, 90% of the companies surveyed increased or maintained their investments in 2021, compared to 69% in 2020. For 2022, 93% of companies plan to increase or maintain their investments.
Employment prospects also improved substantially. Compared to 2020, a year in which 31% of companies claimed to have reduced their workforce, only 12% did so in 2021 and 88% of companies increased or maintained their employee numbers. For 2022, the outlook is even better, with 94% of companies expecting to increase or retain employees.
Turnover in our country improved the most in 2021. Compared to 54% of companies that saw their turnover decrease in 2020, only 14% did so in 2021. For 2022, 71% of companies expect to increase turnover, 23% expect it to remain the same and only 6% expect it to fall. 
Finally, with regard to total exports, foreign-owned companies in Spain have a clear exporting profile, and 75% of them export from Spain to third markets. In 2020, 26% of companies decreased their exports, but this dropped to 9% in 2021 and by 2022 only 4% of companies expect their foreign sales to fall.
New: sustainability and recovery funds
New in this edition is a specific chapter on sustainability, which analyses the strategies of foreign companies in Spain on this issue, and the degree to which conditions in our country favour the achievement of their objectives.  Among the factors that most favour the development of sustainability strategies for companies in Spain, investors highlight the awareness of consumers and society, and particularly the workers themselves. They also point to the responsible behaviours of suppliers and customers.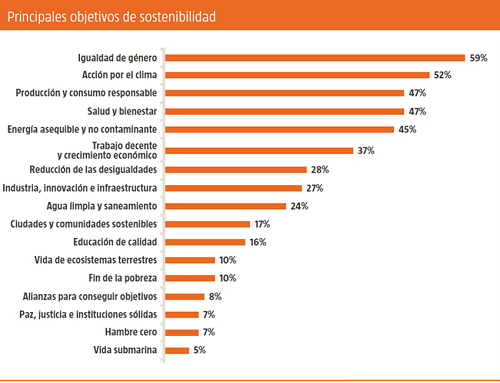 On this occasion, companies were also consulted on the importance of accessing European recovery funds for their activity, which proved to be high or very high for 25% of them, average for 23%, and low or very low for 52% of foreign companies. 
From here you can download the Barómetro del Clima de negocios en España desde la perspectiva el inversor extranjero in Spanish and the Barometer of the business climate in Spain in English.