Spain, a world leader in tourism 
Spain leads the world in tourism. Since 2015 it has placed first on the World Economic Forum (WEF) podium, which awards the most competitive countries in the tourism industry from among 140 economies. 
Spain 1º /140
Travel&Tourism Competitiveness Index, 2019
key Indicators  Source:World Tourism Organisation(UNWTO) and World Travel&Tourism Council(WTTC).
International tourists arrivals
81,868,500
International tourism inbound receipts
US $ 68,114.1 millones
Average receipts per arrival 
US $ 832.0
T&T Industry GDP (% of total)
US $ 78,464.0 millones (5.4%)
T&T Industry Share (% GDP)
5.4
T&T Employment  (% of total)
958.100 jobs (5.0%)
T&T Industry Share of Employment (% total employment)
5.0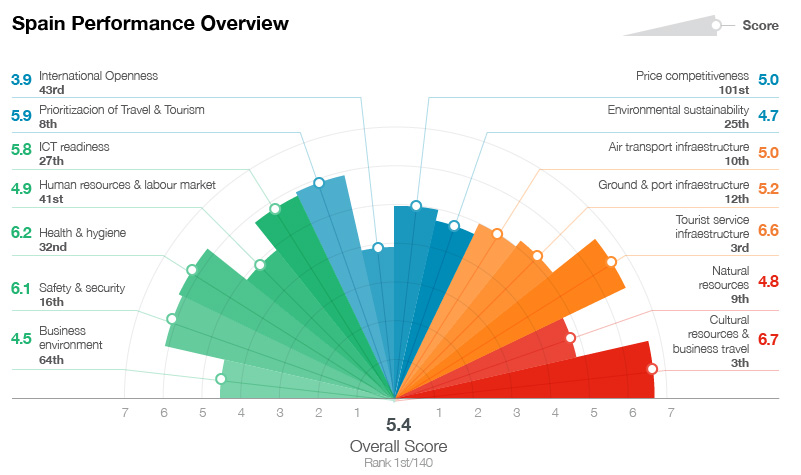 Since 2017 it has broken the record in number of visitors: thanks to the more than 83 million tourists arriving in Spain, every year it is recognized as the second most visited country in the world, after France. The United States and China follow.
Spain's success in the tourism industry is due especially to its rich cultural and natural attractions, but also to its exceptional infrastructures, the quality of its transportation and hotel density. These are the three key points that the WEF considers essential to having a competitive advantage over other countries in tourism.
The tourism industry is an important engine of the Spanish economy and employment (2.5 million jobs). The strong public policies backing the industry, with public-private collaboration, and a clear orientation towards a sustainable and quality tourism model, ensure that about half of the tourism industry's internal expenses are met by international visitors (tourists spend around 90 billion euros).
Catalonia, the Canary Islands, the Balearic Islands, Andalusia and the Community of Valencia are the Spanish regions that welcome the most tourists.